With as much as people move around these days, painting your entire living space only to have the landlord insist you repaint it upon moving a few months down the road can be cumbersome. Many folks are now turning to custom wall decals to insert personality into their homes without the commitment of a proper paint job.
Throngs of decals patiently await customers within the walls of this custom design. Check out what the experts at OC Designs Online have crafted for this online retailer.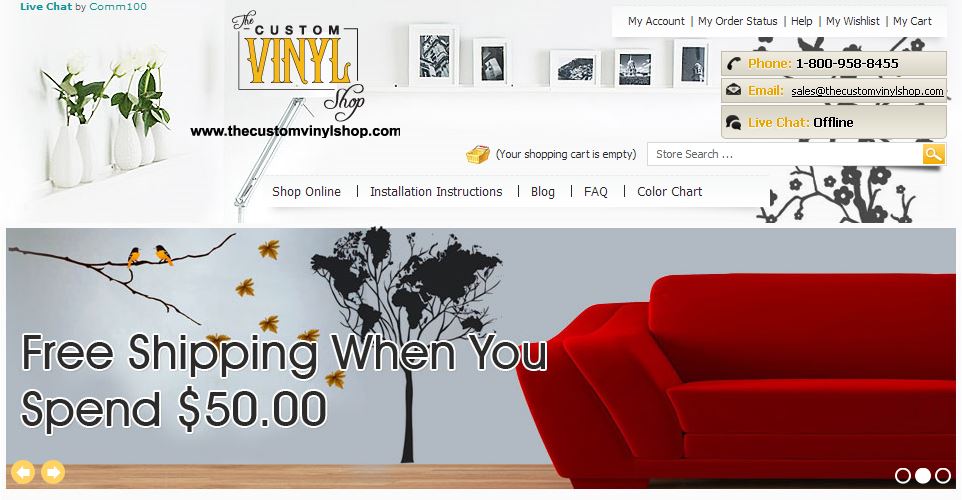 Between the live chat option in the top left, and the account log in, order status, wishlist and cart options at the very top, this shop rolls out the customer conveniences early on.
Just below the company's many contact methods, a custom search bar allows shoppers to target certain products by entering keywords or phrases. The small, but effective navigation panel elicits buyers to shop online, covers installation instructions, links interested parties to the company blog, sports FAQs and offers a handy color wheel.
The welcome panel features a wide angle shot of three different living room settings with beautifully placed decals as the backdrop. As it rotates, buyers are alerted to several special offers including free shipping on orders over $50, a $75 monthly giveaway, and a photo contest offering prize monies.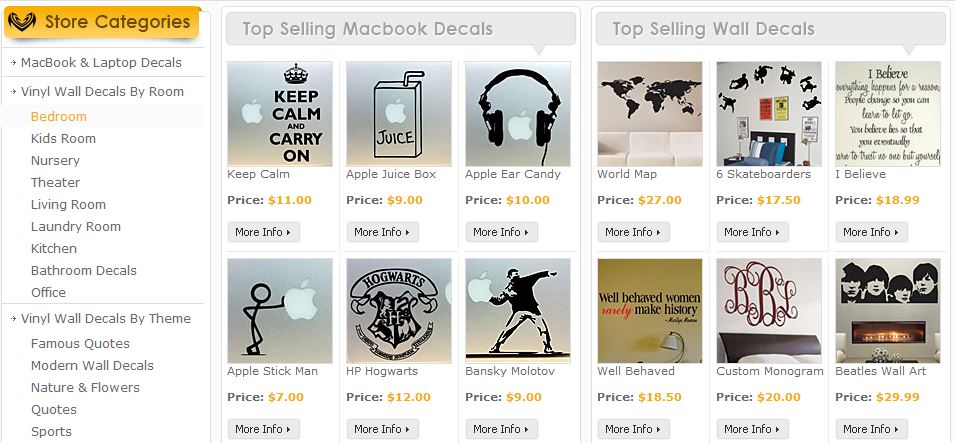 The template used here takes extra care to organize the wide array of options so as not to overwhelm its loyal buyers. Sorted by room and theme, it's easy to quickly hone in on just the right design to match one's needs.
Our experts have also aptly divided samples into top sellers with visual representations to boot!

In the midsection a tasteful 'About' message greets prospective buyers. It is here we learn the Custom Vinyl Shop was started by a group of four friends who wanted to share their deigns with the world.
Additionally, an Authorize Net and Volusion SSL Secure verification are sure to set shoppers' minds at ease as they gear up to pay for their purchases.

Finally, to close out this snappy site, a custom footer is utilized to take customers through a mini, yet thorough sitemap which includes a picture of the month feature and invitation to sign up for the newsletter to win free decals.
If you desire a Volusion Store Design that combines quality and creativity, consider OC Designs Online. We invite you to browse our portfolio of imaginative designs and request a free quote to learn more.
Please look us up on Facebook, follow us on Twitter and check out our Pinterest boards too!