2017 is right around the corner, can you believe it? Today on the blog, we wanted to share with you a fantastic design we created for Jeans Only on eBay that keeps in mind eBay's new 2017 requirements for active content.
Not sure what active content is? Well, eBay describes active content as designs that feature Flash, JavaScript and more. Read this 2017 eBay guide for how you can check if your current eBay HTML template features active content. Starting in the next year, eBay will block active content, meaning if you have a listing template with any kind of active content, those listings will no longer be valid.
Stay tuned for the design story below, as well as some other designs you may want to see from the OCDesignsonline team. All html template designs from our team will avoid these active content triggers, so you can trust us to create a design for you that will meet these requirements and help you sell more.
The Perfect Structure
Jeans Only's eBay storefront has a perfect structural design for new and returning customers. The long, rectangular way the photos of jean products are displayed aesthetically draw you into the unique jean designs customers can expect from this store. Each of these photos are original to the store, sharing it's hand-crafted policy and brand identity.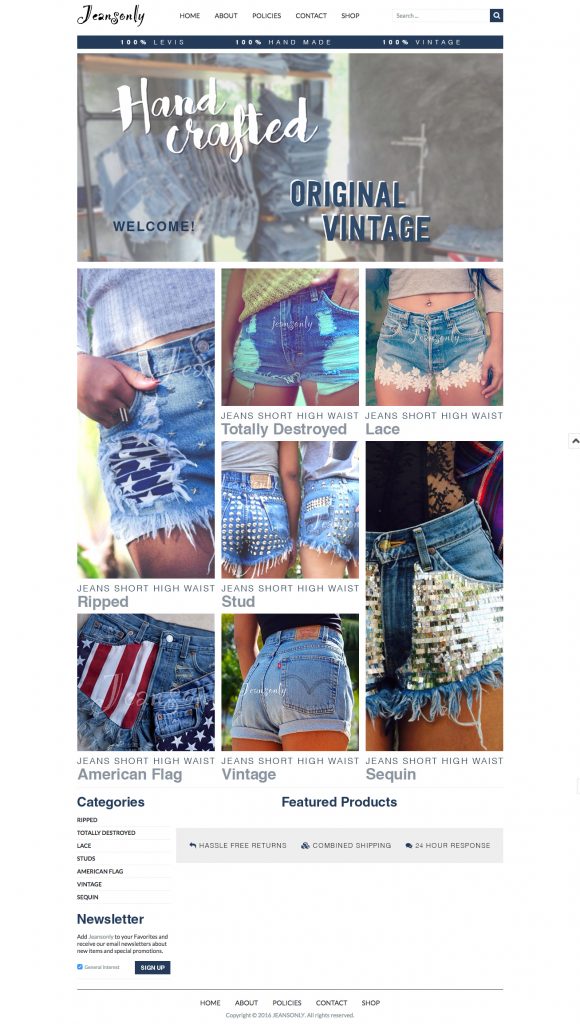 A Summer Hue
The use of colors from Jeans Only's eBay storefront perfectly compliments the jeans sold from this brand. The use of a solid white background and dark blue headers really brings out the light denim of the products sold. The storefront's colors draw attention to the jeans, but in a transitional way that comes off as very natural to those browsing through the storefront, emphasizing a Summer lifestyle feel. It allows the jeans to stand out for the fun that they bring to the wearer, telling a brand story that helps sell more products.
If you want an eBay design that helps you impress customers at first glance, is free of active content as per eBay's 2017 requirements, sell more products, and helps you reach your eCommerce goals than you need to contact the OCDesignsonline team for a free quote as soon as possible.
Here are some other designs you may want to explore from our team:
Request a free quote now to get started
OCDesignsonline has a large portfolio of clients, spanning several years and platforms, so browse our portfolio to get a feel of our quality of work and then request your free website design quote to see what we can do for you. Don't forget to also follow us on our social media accounts: Facebook, Twitter, Google+, and Pinterest for more updates.