This week on the OCDesignsonline design blog, we wanted to share with you a friendly eBay design we created for Shopsy on eBay. This design features a bright purple and pink storefront, a stylish atmosphere featuring a dramatic curve, a Featured Products widget to engage shoppers, and much more.
Stay tuned for the eBay template story below, as well as some other designs you may want to see from the OCDesignsonline team so that you can see more of what we create for our clients.
Shopsy's eBay Store Design Welcoming Colors Add a Beautiful Backdrop to Shopping
The colors surrounding Shopsy's eBay storefront are simple and complimentary, with bright tones of purple and pink that have a more subtle color palette than brighter neons than you typically see in pink and purple designs.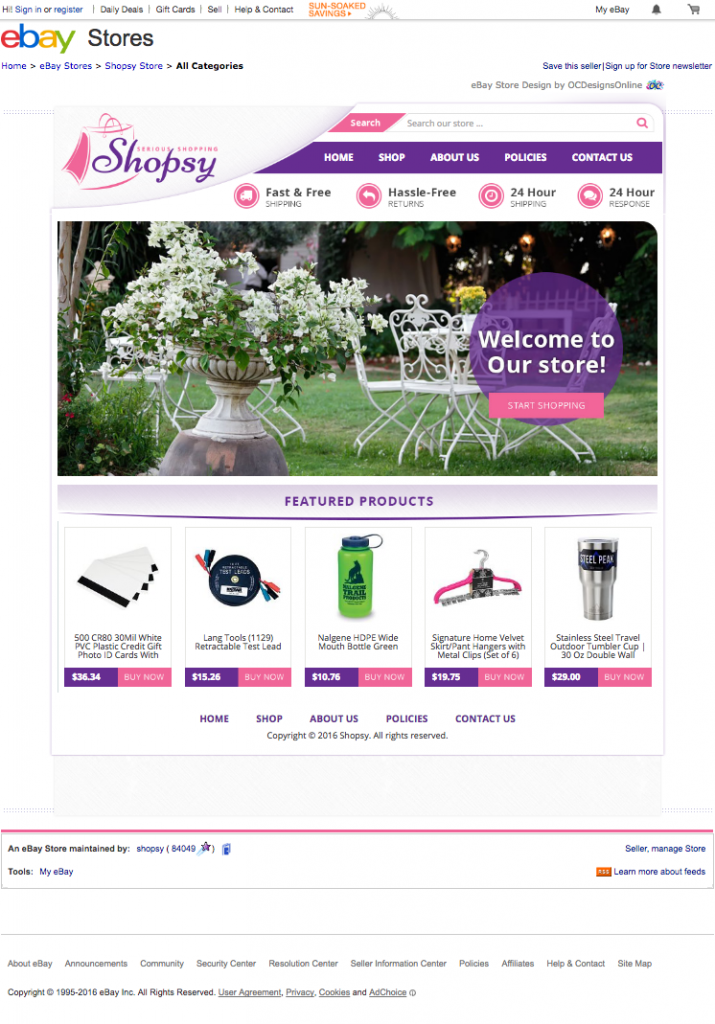 We created a logo with these colors that are shown in a swoop design at the top of the page, which draws the eye towards the header area – a technique that encourages more clicks. We also utilized little icons next to a few store policies to help illustrate at a glance what the store offers. These small details help bring more trust to customers that may not have shopped with Shopsy before.
A Functional and SEO optimized eBay template
Shopsy's eBay template design is a special one because it encourages clicks, and in turn, more sales for our homegoods client. The overall usage of icons, swooping lines, and calls-to-action are helpful to Shopsy as they encourage shoppers to look around. The lack of clutter on this page also brings shoppers to look at key pages rather than to get frustrated by too many options, which can happen easily when designers work on adding more just for the sake of more. It's about making products stand out, not blend in. This is how Shopsy is increasing their sales.
If you want an eBay design that helps you impress customers at first glance, sell more products, and helps you reach your eCommerce goals than you need to contact the OCDesignsonline team for a free quote as soon as possible. Our Summer design queue is filling up!
Still not convinced?
Here are some other designs you may want to explore from our team:
Request a free quote now to get started
OCDesignsonline has a large portfolio of clients, spanning several years and platforms, so browse our portfolio to get a feel of our quality of work and then request your free website design quote to see what we can do for you. Don't forget to also follow us on our social media accounts: Facebook, Twitter, Google+, and Pinterest for more updates.