Today the OCDesignsonline team is here to share with you an on-brand design we created for Fit-Rite Auto Parts on eBay. This design features easy to find information, detailed clickable categories, a featured products area, and more. Stay tuned for the design story below, as well as some other designs you may want to see from our eCommerce design team.
Fit-Rite Auto Parts has an eBay storefront that suits their brand identity
Fit-Rite Auto Parts' eBay store front is presented in a unique form, it provides a lot of information for the user to digest while also keeping them from being overwhelmed.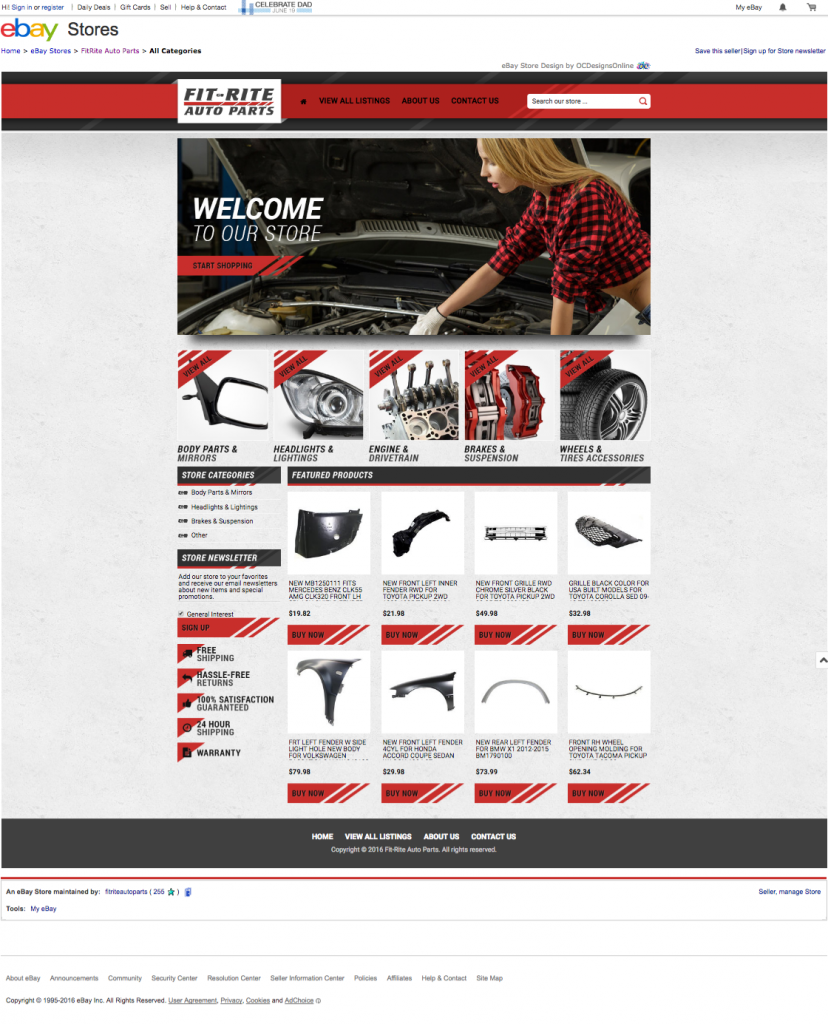 It also shares a fun look at the brand's personal identity with the welcome image featuring a woman in flannel and that same red tone from the shirt around the whole store. The diagonal lines above the different categories also drag the eye of the prospective customer, helping them move around the store easily to find what they need.
Categories on Auto-Rite visually aid visitors
Auto-Rite's storefront features a simple set of two categories. The first set are visual clickable icons presented at the top of the page which focus on the various auto parts for a car (such as wheels, mirrors, headlights, etc.), and provide a clear, distinct look for customers browsing the page.
The second set are neatly placed on the left side of the page and feature the same groupings of auto parts listed in the first set, but are designed to follow the user on each page of the storefront as to limit excessive backtracking while browsing through Auto-Rite's products. These categories also help the brand's SEO, as it provides more keywords for search engine crawlers to index.
If you want an eBay HTML template that helps you impress customers at first glance, sell more products, helps your eBay SEO, and helps you reach your eCommerce goals than you need to contact the OCDesignsonline team for a free quote as soon as possible.
Here are some other designs you may want to explore from our team:
Request a free quote now to get started
OCDesignsonline has a large portfolio of clients, spanning several years and platforms, so browse our portfolio to get a feel of our quality of work and then request your free website design quote to see what we can do for you. Don't forget to also follow us on our social media accounts: Facebook, Twitter, Google+, and Pinterest for more updates.