Today on the blog, we wanted to share with you a spectacular design we created for Speedline Auto Parts on eBay. This design features a clutter-free homepage, organized category section, unique speed track mark details, and more – making it the perfect eBay HTML template for our client. Stay tuned for the design story below, as well as some other designs you may want to see from the OCDesignsonline team.
This clutter-free homepage makes you feel right at home
The moment you enter Speedline Auto Parts' eBay storefront homepage, you know exactly where everything is. The store design is clean and clutter free because of the use of negative space, which means that the products you are selling will stand out on their own. Other than the white background, we have used dark blues to highlight the different categories on this page.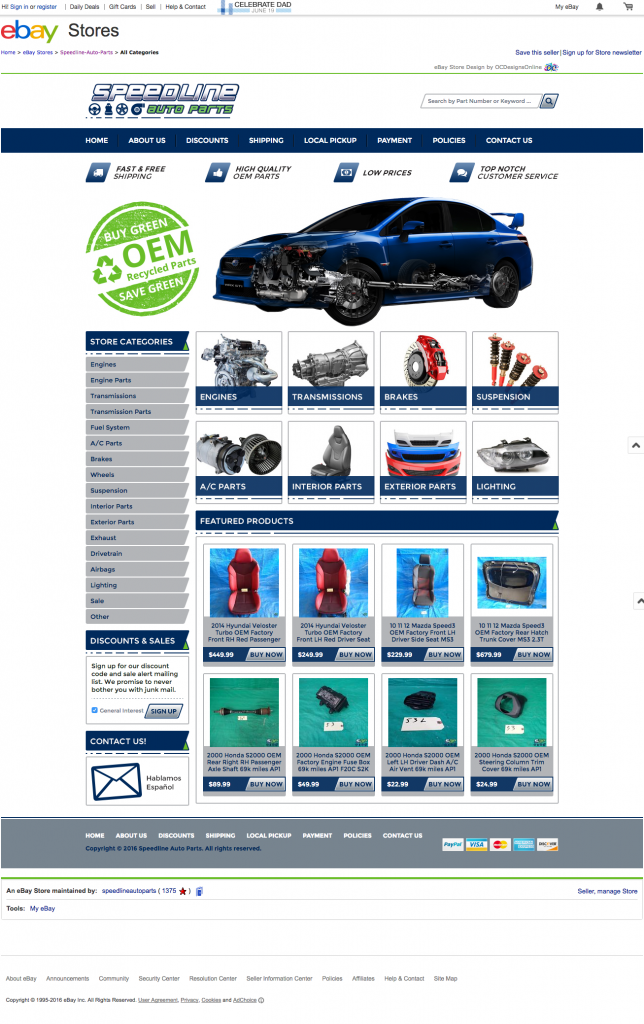 The clean, boxy look of Speedline Auto Parts
No need for a frantic search, these categories are perfectly organized, and you have the option to use a convenient search bar at the top of the page to find the exact models you are looking for.
Aside from the clean store front, Speedline Auto Parts also features a well-organized set of categories that feels like a perfectly organic component to the rest of the eBay store page. Broken down into 17 sections, the categories feature all the major parts to a car from the A/C to the wheels. Within these categories, you will find parts that car lovers and regular car users will easily be able to find with its in-depth, yet simple categorical grouping of auto parts. This helps prospective customers keep from getting frustrated while they search the store.
The Featured Products area is also an important feature to this eBay store design as it helps highlight the prices and product quality this store provides. Let's not forget to mention the track mark details around the page, which helps share the spirit of the store.
If you want an eBay design that helps you impress customers at first glance, sell more products, and helps you reach your eCommerce goals than you need to contact the OCDesignsonline team for a free quote as soon as possible.
Here are some other designs you may want to explore from our team:
Request a free quote now to get started
OCDesignsonline has a large portfolio of clients, spanning several years and platforms (including eBay templates), so browse our portfolio to get a feel of our quality of work and then request your free website design quote to see what we can do for you. Don't forget to also follow us on our social media accounts: Facebook, Twitter, Google+, and Pinterest for more updates.