Maintaining a pool is tough work, even when you love it, so we were excited to make at least the shopping experience for pool owners easier when one of our recent clients, Pool Above, contacted us to create for them an eBay storefront design.
This simple design helps products stand out
Since this store sells exclusively pool supplies, rather than a mismatch of many products, we decided to focus on a simple water inspired look to help products stand out.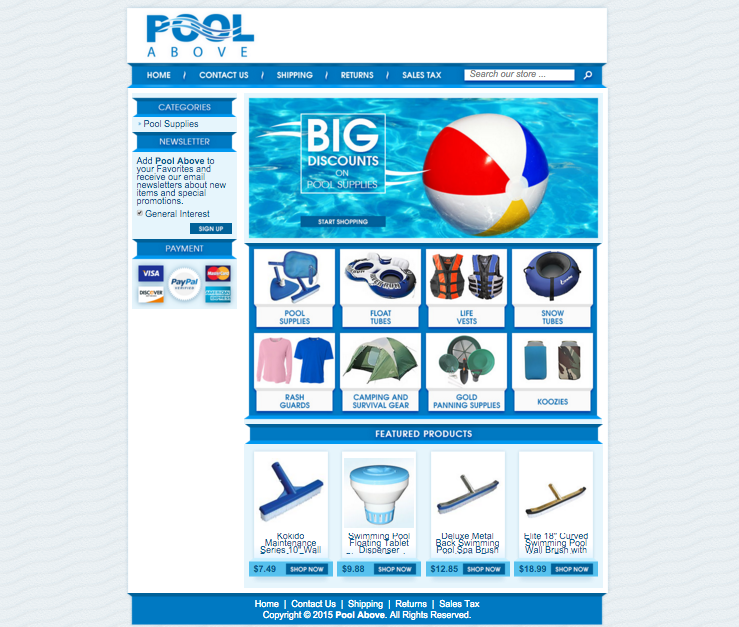 We used a subtle grey wavy pattern to mimic water in the background of the store, as well as creating a matching wavy lined logo. The welcome image is more obviously themed, featuring a closeup photo of water and a beachball with a subtle call to action.
As we mentioned briefly in our 2016 eCommerce trends to watch, the negative space in this design helps keep it clutter-free while simultaneously bringing more emphasis to products our client sells.
The Featured Products area helps this store sell more
Underneath the welcome image, we have created several clickable category images to help our client's customers find exactly what they are looking for in an engaging way. Right below this area we've created a Featured Products widget that helps our client promote certain items they want to bring attention to, whether that be a new trend beach ball pattern or an item that is on sale for a limited time.
These emphasized sections bring more attention to products, encouraging more clicks and larger than average cart sizes.
If you want your eBay store to sell more, it starts with a well-performing and thought out design. Request a free quote now to get started.
Other designs from our team:
Request a free quote now to get started
OCDesignsonline has a wide array of eBay listing templates to choose from on the site. Take a moment to browse our portfolio and request a free quote. Also, don't forget to find us on Facebook, follow us on Twitter and check out our Google+ Page too!