2015 is quickly coming to a close, to our great surprise. Where did 2015 disappear too? In celebration of the new year, today we are sharing with you a few eCommerce trends that can dramatically impact your eBay stores and other businesses in 2016.
1. Whitespace is more important than ever
With thousands of new stores launching daily, modern designs with more whitespace are soaring in popularity. Many of the stores the OCDesignsonline team have designed have included more white space this year because consumers want to see effective designs with no clutter. The websites of the 90s and early 2000s are clunky, flashy, and too colorful for the millennials that are taking over the shopping district today.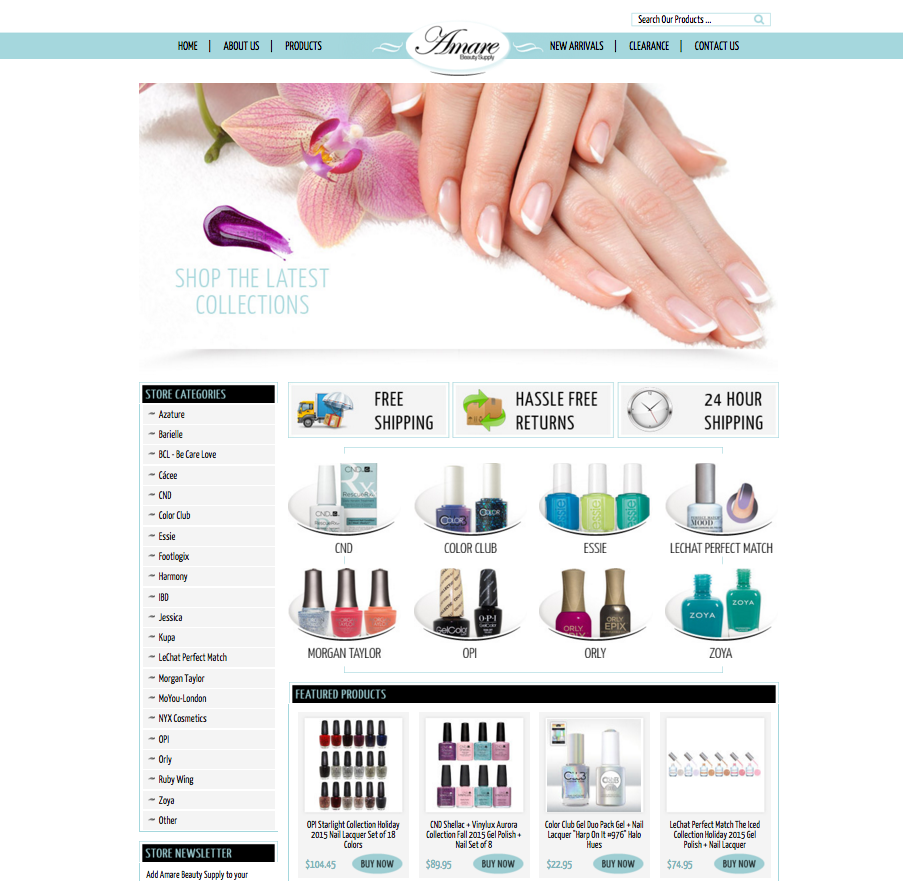 Amare Beauty Supply's whitespace design
Squetech has a great post on the importance of whitespace that you may want to look into for further reading, talking about how the negative spaces between design elements actually makes products more noticeable to consumers, creating a balance that helps calls to action more impactful.
2. Responsive designs are essential with the rise in tablet shopping
Mobile designs don't only refer to the use of smartphones, it also involves the rise in tablet shopping. With the popularity of these devices climbing by the year and many more tablet companies entering the market, a store design needs to be responsive. Meaning, the design adapts to the screen size it's being viewed on.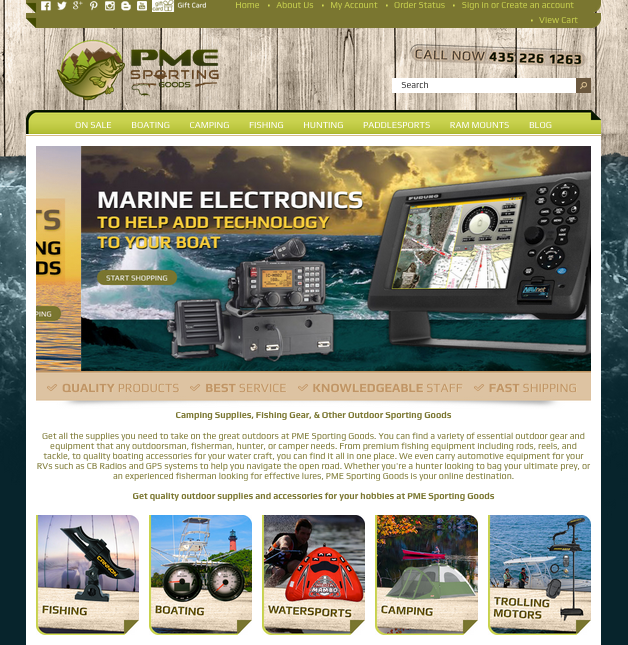 Custom responsive design for PME Sporting Goods
Shopify stated in 2014 that 50% of their Shopify store sales were from mobile and tablet shoppers, that is a startling number that should not be ignored in 2016 as it is likely to continue.
3. Stores and advertisements without calls to action are ineffective
If you've never heard of this term before, a call to action is a word or phrase that prompts a consumer to perform an action. Ads that don't feature a call to action are considered to be ineffective forms of promotion. As a designer, we make sure to seamlessly add calls to action into the storefront designs we create for sellers because we know how important these phrases can be for encouraging patrons.
In 2016, if your store doesn't have any calls to action, change up your design to mix them in as part of your welcome images, sales promotions, and more.
4. Content marketing is quickly becoming expected by consumers
With larger brands, marketplaces, and even social networks creating and utilizing blogs as part of their marketing strategy, consumers are taking notice. The blogs of marketplaces, like Etsy, are driving product and helping add to their image, while blogs from social networks, like LinkedIn, are helping encourage their user base with information and resources. Small and large brands alike can benefit from the implementation of a blog content marketing strategy in 2016.
Blogs can be utilized for more than product write-ups, they can also help companies excel in their niche by providing information and tips to the user demographics they are looking to sell too.
We're taking notice too! In 2016, our design team is going to implement more frequent blog posts to help our current and future design clients, so be sure to stay tuned to our Facebook for links to our new blog posts.
5. Social media is for everyone, not just the larger brands
Social media is so engrossed in our customer's day to day life that they not only expect the stores they shop with to have accounts on Twitter and Facebook, they also look for those accounts as a method of contact often more than they do for emails.
Feedback Plus even suggests that social media may be the next greatest call center, with 50% of those consumers that report to contact brands for customer service doing so because of an issue they are looking to resolve. That's a large number!
But OCDesignsonline knows that it can be hard for smaller brands to make the time for social media marketing, so we also provide social media services from our team. If you don't have a social media presence for your store, it's time to start.
Keeping your store performing the best that it can does not have to be overwhelming, it can start with help from our team. Make 2016 the best year possible for your store with a new design that keeps these eCommerce trends in mind. Contact us for a free quote ASAP to get started.