Technology is one of our specialties here at OCDesignsonline. We've worked with many companies in this eBay sector and have developed a system for what works and what doesn't in these kinds of eBay storefront designs.
Check out other computer and TV part sellers we've worked for below, as well the design write up and success story for one of our recent clients, Your Technology Place, below.
Other similar clients:
We created a header and logo that draws the eye and reminds customers of products sold
We love creating designs that mimic the products sold, it's a fun way to draw the eye of potential customers and to create a brand image synonymous with the items and companies a seller may want to be associated with.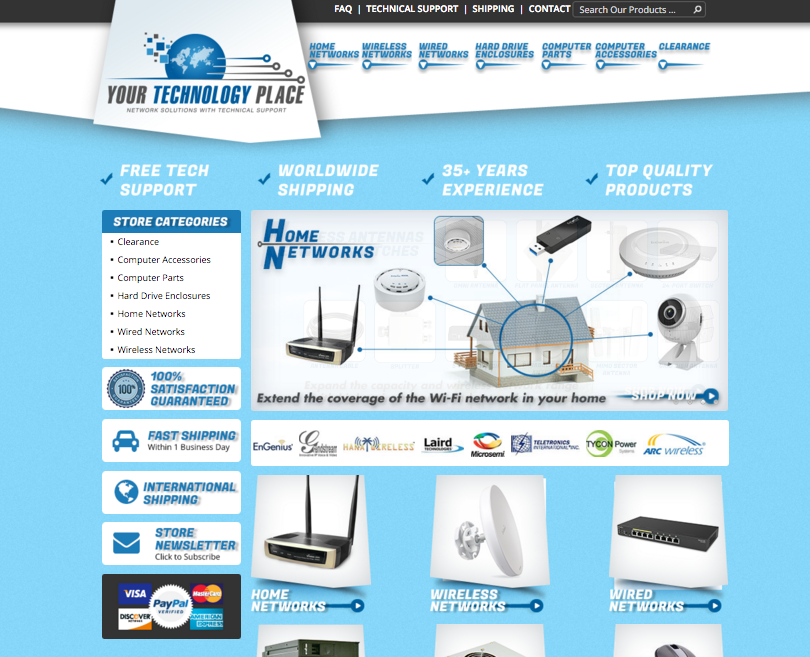 Next to the logo we have created for this company, we've put together a list of items sold by this company and displayed them with bullet points and lines that when put together mimic the look of some of the wiring you may find in the back of a computer or in a graphics card.
Then we showed customers the benefits of shopping with our client
Underneath the header and logo areas, we added some buzz phrases to show why Your Technology Place would be a good place to shop. Some of these store guarantees include worldwide shipping, over 30 years of experience, and more. To the left of the store, we have added even more store trust building buttons, such as our client's 100% satisfaction guarantee.
Showing stores why they should shop with a client is a great way to build trust. Speaking of trust, we've also added a brand reel below the slideshow we've created for this client to help show what options this seller has available at a glance, which helps customers that have a particular item they are shopping for.
If you liked hearing about how all of these little details helped build a well-performing and beautiful design for one of our recent clients, then make sure you request a quote for your business below.
Request a free quote now to get started
OCDesignsonline has a wide array of eBay listing templates to choose from on the site. Take a moment to browse our portfolio and request a free quote. Also, don't forget to find us on Facebook, follow us on Twitter and check out our Google+ Page too!