OCDesignsonline is happy to have a busy design queue, enabling us to learn about all kinds of business and entrepreneurs. Today we are sharing with you a few details about our recent client, the computer reseller DSI.
We show customers the value they can gain from our client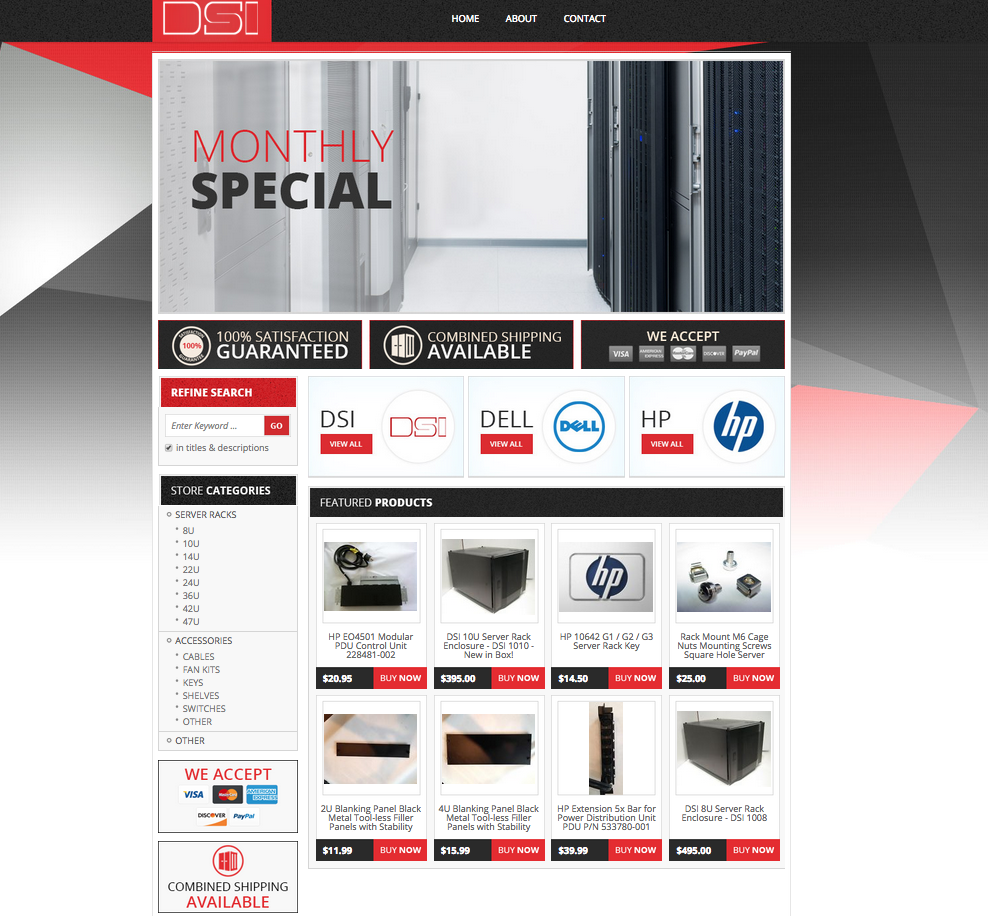 To start we created a monthly special welcome image that encourages more clicks. Repeat customers will end up checking that section every month, as well as gaining clicks from first time customers.
Beneath it we added a few small buttons that share some of the value that potential customers can gain from shopping with our client. We've talked about showing great features a store can offer in the "Why shop with us?" area in several posts, like in the design stories we created for Classic Cycle Parts store. We use this technique often because it works really well in turning potential customers into long term shoppers.
SEO optimized categories help our client reach higher
We have created many SEO boosting design, like the design for Best Connection's store store in particular. We used some similar techniques in this eBay storefront for DSI.
We took a few of the categories that perform really well and created individual photo category links just for them, along with encouraging "view all" calls to action.
To the left we created an expanded list of all of the categories available so that search engine crawlers can index these helpful keywords in association with our client's store.
To the right of the store categories we added a featured products section, another one of our staple product selling techniques. Featured products and sales sections always sell more because it brings attention to items that are high performing, on sale, seasonal, and more.
Last but not least, don't underestimate what a professional looking design can do for your company. Customers do judge your store based on its look, so it's time for you to impress them.
Contact us for a free quote to get started


OCDesignsonline has a wide array of eBay listing templates to choose from on the site. Take a moment to browse our portfolio and request a free quote. Also, don't forget to find us on Facebook, follow us on Twitter and check out our Google+ Page too!