OCDesignsonline loves all things electronic but even better, we love refurbished electronics. When products are taken care of during their use and then refinished and fixed up for resale – we love it because this way you can get an item at a great price while also helping to keep products out of landfills.
The store we redesigned recently sells these refurbished computers, ERS Outlet. We helped our client increase their sales and build their brand image with this new eBay design, custom category page, and custom listing page.
We created a header that reminded customers of their products sold and draws the eye
The header we created for ERS Outlet mimics the look of the recyclable symbol, along with combining a few other shapes and angles that draw the a customer's eye around the page. Creating a design that does this encourages more browsing and increases the average size of a customer's cart.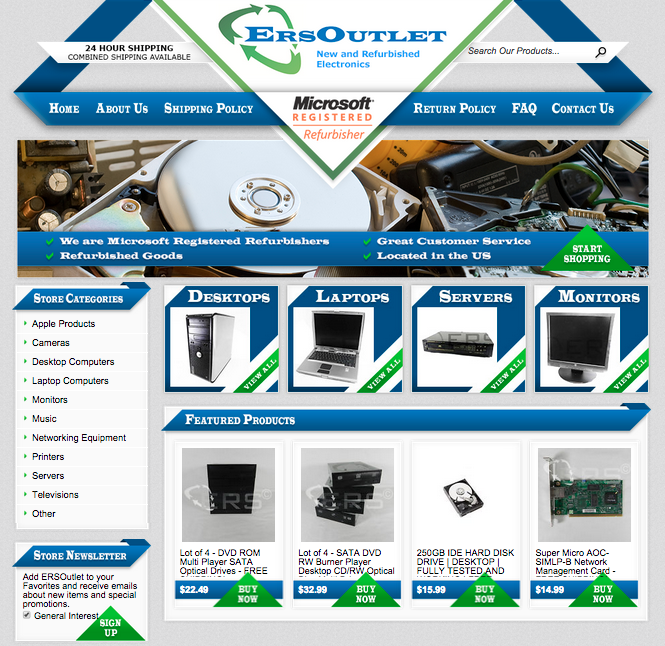 In several areas throughout this design we have also emphasized the fact that our client is a Microsoft Registered Refurbisher, this helps potential customers see the value our client can provide for them. Being a registered refurbisher is something that people that are buying used want to see as it assures them that they aren't buying something that is of verifiable quality.
Towards the bottom of the page we also created an angular banner that shows what payment methods are accepted. We also listed linked category pages towards the left and middle of the page. Bringing all of a store's categories out in the open actually helps with a brand's SEO because when search engine crawlers look through the site they have more links to index, which creates a wider sitemap for Google to promote in search results.
To get a design that draws the eye and helps your search results, contact us for a free quote.
Contact OCDesignsonline for a free quote today on your new eBay design
OCDesignsonline have a wide array of eBay listing templates to choose from on the site. Take a moment to browse our portfolio and request a free quote. Also, don't forget to find us on Facebook, follow us on Twitter and check out our Google+ Page too!