OCDesignsonline is a team of well rounded, talented, and intelligent designers that consistently make quality designs for eCommerce, Volusion, eBay, and many more platforms. This team has put together a design for one of our recent clients that we feel truly matches the quality you would expect of large national brands.
Here are the details behind that recent design we created for said client, Volunteer Audio. Volunteer Audio sells audio equipment for all makes and models of different cars and select powersports and marine boats. We are so excited to see how this design will develop into more sales for our client in the future.
This design sets a professional atmosphere
There are dozens of small elements in this design that all together create a beautiful and well-performing store for our client. It starts with the background we've used for this store, a light dotted textured pattern that mimics the feel of a car tire. Since this store specializes in audio equipment for cars, it's a perfect fit.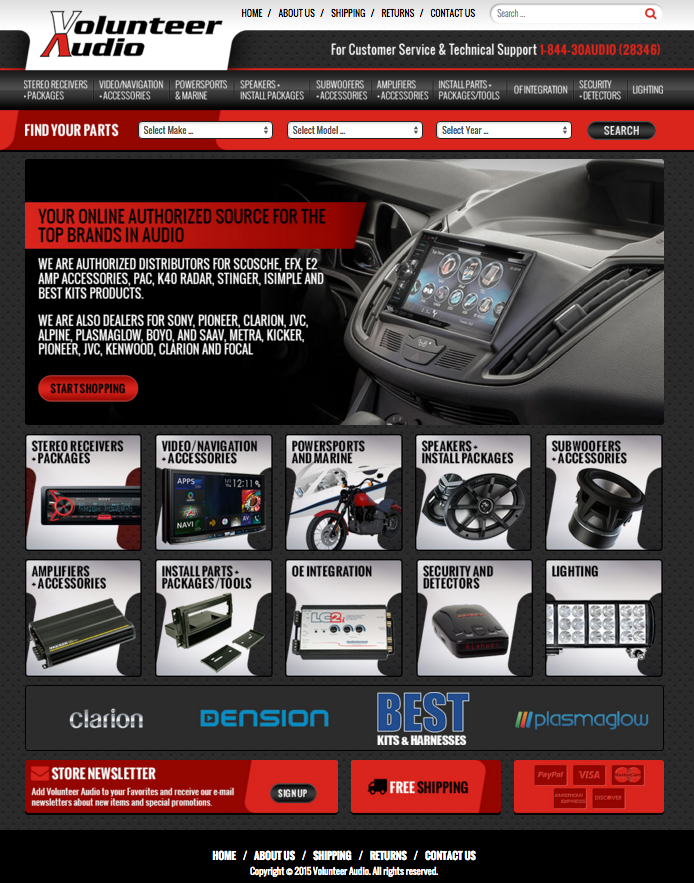 We also created a rolling brand reel underneath the clickable category headers, this creates an area of interest in the design that draws the eye while also showing customers that our client sells the best of the best. It helps build trust with customers and shows professionalism.
Then we also created a searchable element beneath the main category headers and logo that helps keep potential customers from becoming frustrated trying to find an audio system that works for the make and model of their car.

These small elements, along with the matching color schemes and high quality images, and many other small details help create a very professional look for this client that we know is going to help them sell more and gain long term customers.
Designs we've created for similar clients:
If you have a store that you think could be setting a better first impression with customers, contact us right away for a free quote. Our team is waiting to help you.
Request a free quote now to get started
OCDesignsonline has a wide array of eBay listing templates to choose from on the site. Take a moment to browse our portfolio and request a free quote. Also, don't forget to find us on Facebook, follow us on Twitter and check out our Google+ Page too!