One of our recent clients, Compresores Miami, is now equipped with a new eBay storefront design and we just had to share with you the exciting details.
Compresores Miami sells automotive and air conditioning (AC) parts for professionals and hobby fixer uppers. With the AC being so important and cars literally being a part of so many people's livelihoods, it's essential to have stores like these in an accessible avenue like eBay.
We used contrasting colors to make these products pop
Since the production photos for AC and automotive parts are often very light or metallic, we knew we needed to use contrasting tones to make those parts pop. We chose green as the bright color because of the highlights visible in a few of these photos and nothing pops green more than black and grey.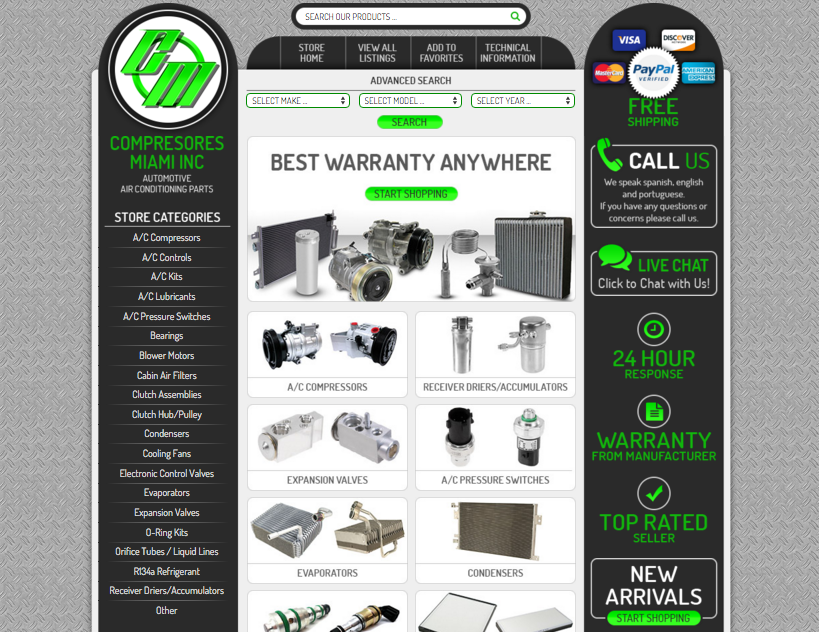 Since we SEO optimized this page, meaning it has more indexible text than usual, we decided to also break up this design with a three prong look rather than a traditional header area. On the left we have the expanded category list, in the middle we have the products and visual category clickables, and then the right has a balance of banners and store policies to encourage customers.
If you want your store to sell more, you need a design team that knows what works and what doesn't depend on your store goals and category. Come to OCDesignsonline for your design needs.
Designs we have created for similar clients:
Request a free quote now to get started
OCDesignsonline has a wide array of eBay listing templates to choose from on the site. Take a moment to browse our portfolio and request a free quote. Also, don't forget to find us on Facebook, follow us on Twitter and check out our Google+ Page too!