Our recent client, The Tough Wear, is an online eBay seller that specializes in helping their customers get as fit as possible. They sell pre-workout aids, protein powder, fat burners, bottles and hydration aids, apparel, and fitness DVDs for the Zumba lovers among their clientele.
We helped this eBay seller by creating an eBay storefront design for them that shows their products in an optimum light, helping them sell more and show their soul to their customers. We are going to share with you some of the details behind this design in this post.
The Tough Wear's top brands, big savings, and low prices are advertised in this store design
Our client sells great products at a discount so we had to make sure that their store advertised these great brands and product offerings at a glance. We started by adding some buzz phrases into their header area, on the opposite side of their logo.
Then we made sure that the links in that header pertained to these offerings, by showing a sales section and shop by category or brand options.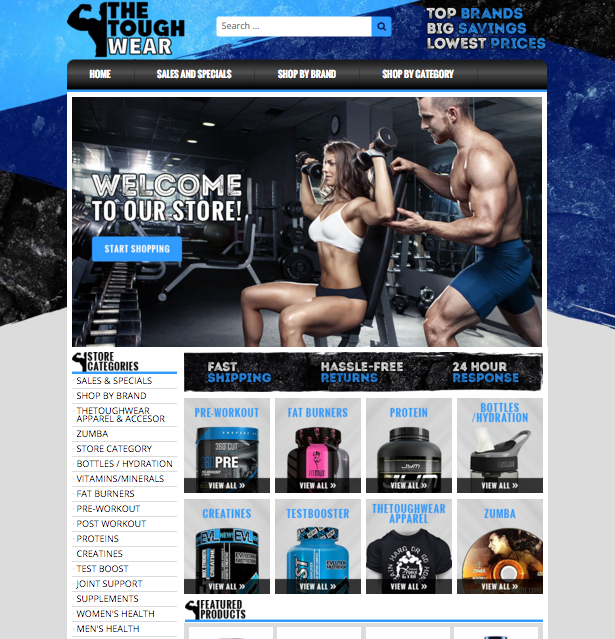 Under the welcome image, that shows what two prospective customers for this store may look like, we've created custom value-adding banners and clickable category images. These two work well on this eBay storefront especially with the added Featured Products area.
All together these features work with this black and blue toned textured design to help our client sell more while bringing attention to the areas they want to promote the most.
Getting a professional design is not just about getting a face lift for your store. It's about putting the focus in the right areas so that your store can meet your goals. Contact us right away to get started on your new better-performing design.
Other similar clients we've designed for:
Request a free quote now to get started
OCDesignsonline has a wide array of eBay listing templates to choose from on the site. Take a moment to browse our portfolio and request a free quote. Also, don't forget to find us on Facebook, follow us on Twitter and check out our Google+ Page too!