eBay is a wonderful place to get the supplies you need to gain control over your health and life. Today we are sharing with you the design the OCDesignsonline team created for Capsuline, an online eBay seller that specializes in vegetarian capsules, gelatin capsules, and other pill related supplies a consumer may need to create their own supplements.
We took advantage of this store's products to create a unique design
Since our client sells items in a specialty niche category, we wanted to make sure we emphasized this fact in this eBay store design. We did so in a few ways.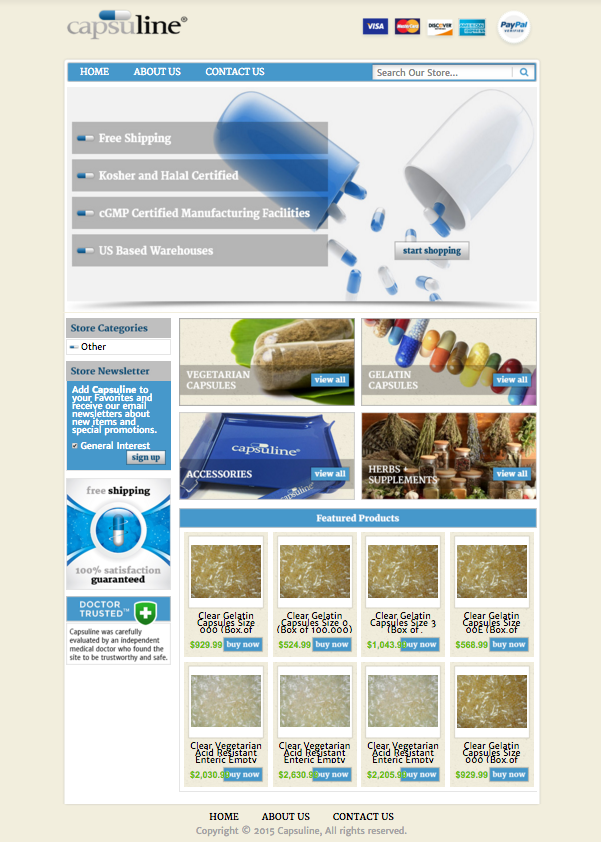 In the welcome image, we added small pill capsules to mimic the look of bullet points, which helps bring attention to the different values that customers can obtain from our client. Such as, free shipping and other health and manufacturer information.
In the sidebar, we created two custom images, one to advertise their free shipping (with an energetic pill capsule that resembles the capsule in their logo) as well as a Doctor Trusted guarantee to help assure customers that they are buying quality items.
And of course, we made sure to create a Featured Products area. We have discussed on several occasions how impactful these types of areas can be, but the bottom line is that it helps our clients sell more.
Lastly, throughout the design we made sure to stick to the blue, grey, and yellow tones found in the capsule and herb images we used in the categories section. This helps tie the whole design together.
Other recent designs from our team:
If you want your store to sell more, you need a design team that knows what works and what doesn't for the product you are selling. We won't waste your time or your money, the OCDesignsonline team will create a design for you that helps your store perform.
Request a free quote now to get started
OCDesignsonline has a wide array of eBay listing templates to choose from on the site. Take a moment to browse our portfolio and request a free quote. Also, don't forget to find us on Facebook, follow us on Twitter and check out our Google+ Page too!