OCDesignsonline loves creating vibrant and exciting store designs for our clients. This design for Quality Kingz (a home, beauty, pets, and healthy food seller on eBay) fits that mold with their ombre faded logo and eye catching clickable category images.
For details on how we have helped this store gain more clicks and sales to their eBay storefront, read below.
Other stores designed by our team:
We used varied line work to draw the eye
In this teal and yellow design we have used a variety of wavy and swirling line work with the intent of drawing in more clicks and sales. Generally, eyes are drawn to a particular pattern on all web pages but by creating these wavy lines, we take the eye out of its usual trajectory and have it focus on calls to action.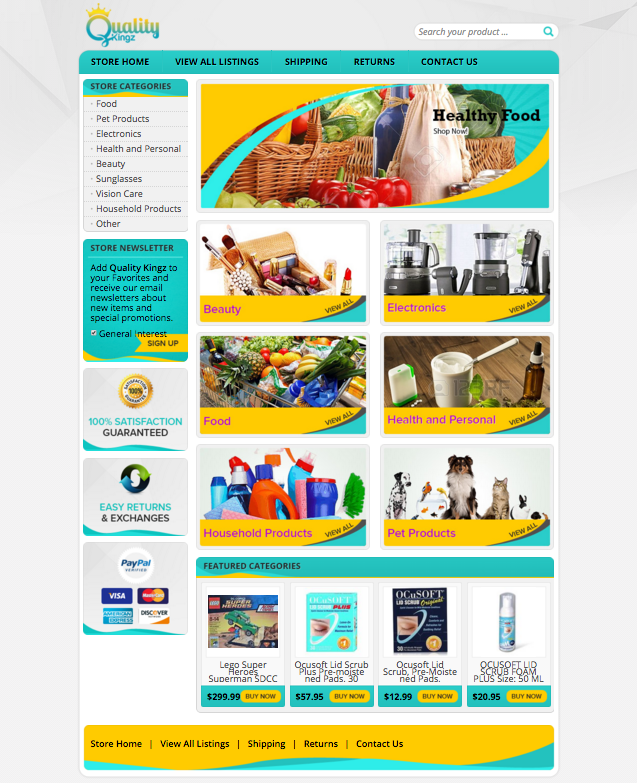 In the healthy food centered welcome image, the eye is drawn to the left of the photo. In the clickable category areas below the welcome image, customers are drawn to click on "view all." Additionally, for the featured products we make the "buy now" button stand out in contrast, which also encourages clicks.
These subtle techniques help our client's products sell more.
The custom listing template is the icing on the cake
For Quality Kingz we've also developed a matching eBay listing template so that the product descriptions stand out in the sea of other products our client's customers may be looking at. In this listing template our wavy lines bring attention to their different store guarantees like their satisfaction and return policies.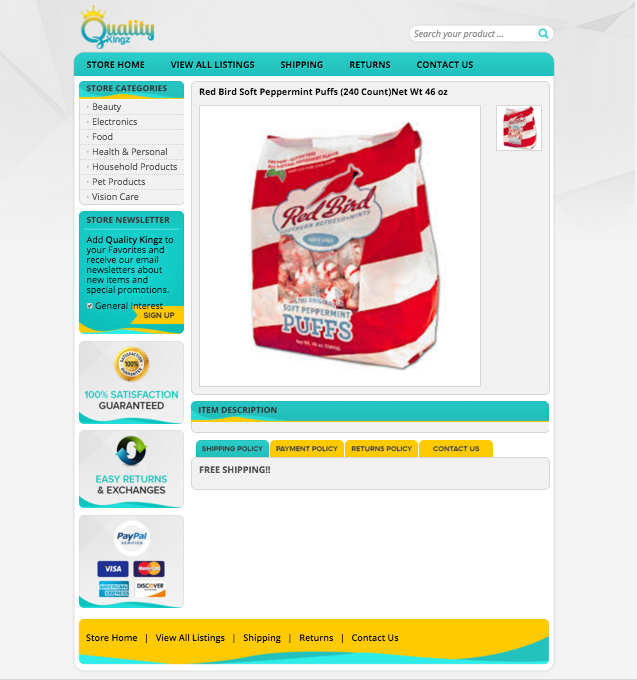 This helps clients feel more secure and informed in their decisions, especially with potential customers that may have not heard of our client before.
Making a living from your eBay store is not a dream, it's attainable when you work with a design company that knows what encourages more sales.
Request a free quote now to get started
OCDesignsonline have a wide array of eBay listing templates to choose from on the site. Take a moment to browse our portfolio and request a free quote. Also, don't forget to find us on Facebook, follow us on Twitter and check out our Google+ Page too!