There is a large amount of car parts, wheels, and repair items available on eBay so having a design that helps your products and brands stand out is of paramount importance. Today we at OCDesignsonline had the pleasure of working with eCustom Hitch on their new eBay storefront design, helping them sell and perform better in the long run.
Similar designs from OCDesignsonline:
Sharing shopping guarantees help build trust with new customers
All throughout the eBay store design we have created for our client, we have added in several phrases that have to do with the customer service and general store guarantees available for potential customers.
Different phrases that we have added to this simple white, grey, and red car parts seller is their 100% satisfaction guarantee, mission statement, free returns, fast shipping, and much more. Showing these guarantees up front and personal helps new customers feel trust in our client before they even make their first purchase, which helps our client sell more.
Searching with a purpose helps products sell fast
With car items, not all parts will work with all makes and car models. Because of this fact, many shoppers can get frustrated opening up multiple product pages to see that an item isn't compatible with what they need.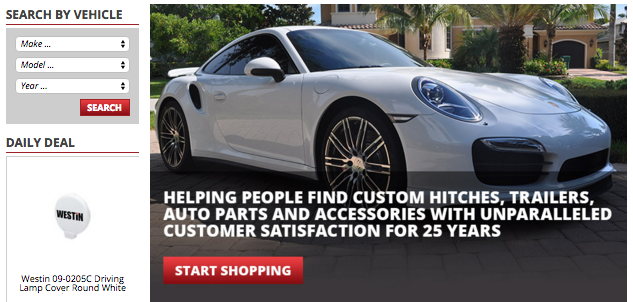 To increase customer's satisfaction and help shoppers find what they need quickly, we help them browse with a purpose by creating an area where customers can specifically search by their exact car make and model. This keeps frustration down and sales up.
We know what stores in all kinds of categories need to have to help them sell more. Contact us to get a free quote now so that your store can get started as quickly as possible to selling more.
Request a free quote now to get started
OCDesignsonline have a wide array of eBay listing templates to choose from on the site. Take a moment to browse our portfolio and request a free quote. Also, don't forget to find us on Facebook, follow us on Twitter and check out our Google+ Page too!