We at OCDesignsonline are happy today to share with you the custom eBay shop design we created for Hubcaps Wheels. This sleek blue and grey design makes our client's store stand out in all of the right ways, giving it a fresh look guaranteed to boost sales and create an exciting shopping experience for our client's customers.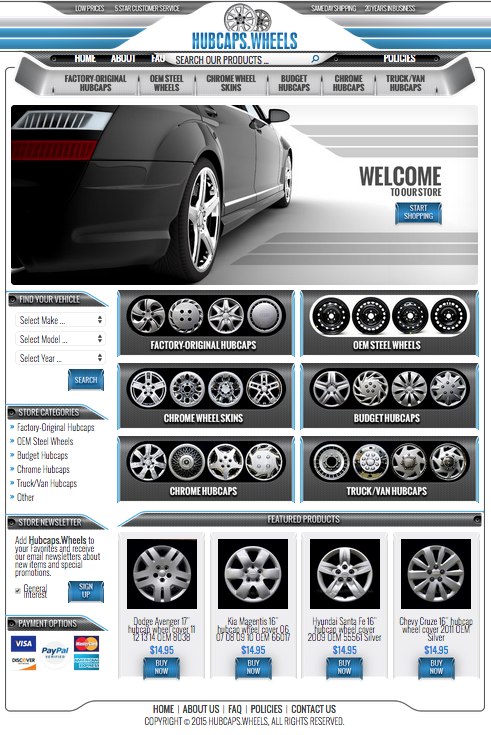 We created a menu bar and other design elements to mimic the products sold
Does that custom eBay menu remind you of anything? We set out to remind our clients customers of the dashboard of a car at every opportunity while they browsed products. This adds a little something to the shopping experience that isn't as noticeable at first glance but in the long run increases sales. We also mixed in a few different textures to this design to even further remind clients of their cars and the wheels they were looking to customize.

We highlighted our client's credibility in their sidebar and above their logo
By sharing the store newsletter and payment options in the sidebar, we are showing our client's customers that they can rely on Hubcaps Wheels to take their patronage seriously. Being Paypal certified as well as having other payment options share with your customers that you are trustworthy, which is something we knew we had to emphasize with our client's new store design.
Above the beautifully designed logo we created for Hubcaps Wheels, you also find a banner that shares information on our client's experience. This will encourage customers to see that our client's store will bring them high quality. We know that bringing attention to these impressive credentials will encourage a higher product turnover.
And we haven't even mentioned the unique Find Your Vehicle sidebar item yet. This section keeps customers on our client's page longer because it makes them more likely to browse the store and it's contents. Talk about a must-have!
Contact OCDesignsonline for a free quote today
OCDesignsonline have a wide array of eBay listing templates to choose from on the site. Take a moment to browse our portfolio and request a free quote. Also, don't forget to find us on Facebook, follow us on Twitter and check out our Google+ Page too!