Motorsports and other related items are a hot seller on eBay, especially for those sportsman who want to change up their wheels. Today we are sharing with you the design our OCDesignsonline team created for Coastal Moto, a motorcycle wheel eBay superstore.
Other motorcycle related designs:
We created a logo to suit their unique name
The name Coastal Moto brings two images to mind, the beach and motorcycles. Because of this connotation, we created a logo that embodied the speed of a motorcycle with the power of an ocean wave. It adds a special branded look to this eBay store design.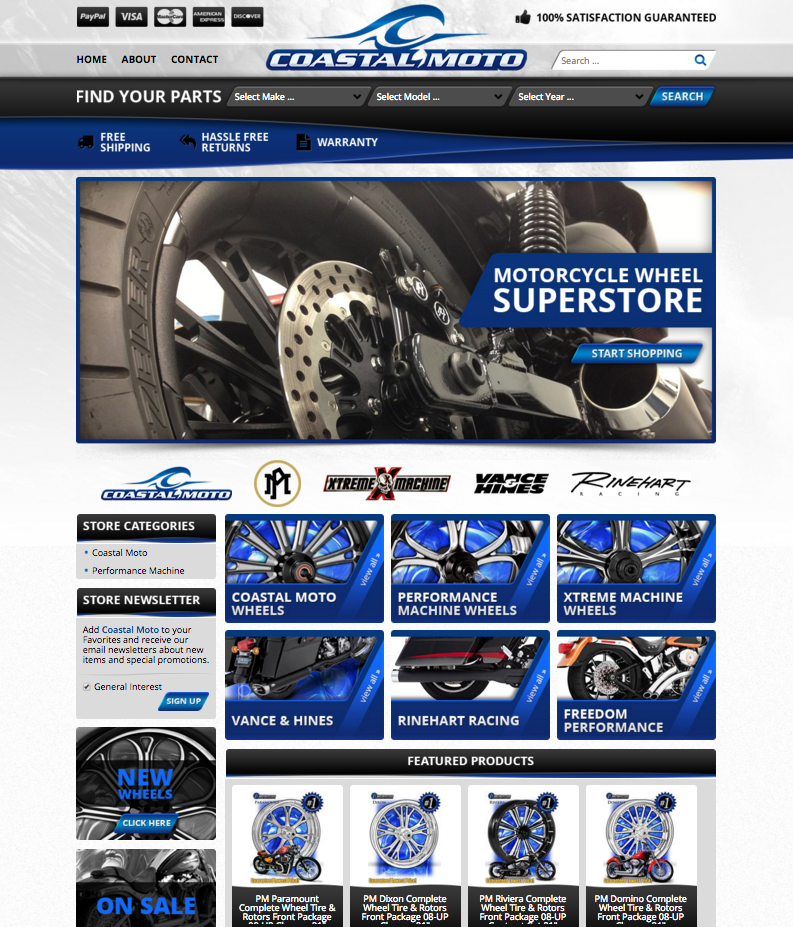 To bring in the waves of the logo, we used accents of blue throughout the site design and welcome image as well as adding in the greys and blacks you'd expect from a motorized vehicle.
Beneath the logo and header, we created a custom widget for customers to use so that they can browse this eBay store for the exact make and model part they need without complications or frustrations. There is nothing worse than finding something you want and realizing it won't work for your needs, which is why this feature has helped out our client so much.
Then we used featured products and store categories to help our client sell more
After the welcome image, which features a Call to Action, we created a brand showcase to illustrate the trustworthy products that our client represents.
We also created custom category images and a featured products section, which has been proven to increase clicks and average cart sizes for our clients.
If you want your store to sell more, you need a design team that knows what works and what doesn't. We won't waste your time or your money, we'll just create for you a store that makes you more money.
Request a free quote now to get started
OCDesignsonline have a wide array of eBay listing templates to choose from on the site. Take a moment to browse our portfolio and request a free quote. Also, don't forget to find us on Facebook, follow us on Twitter and check out our Google+ Page too!