Deejaying is seen as exciting and can be very profitable. It's not just a popular hobby but also a much coveted profession that produces its own roster of world-traveling star spinners.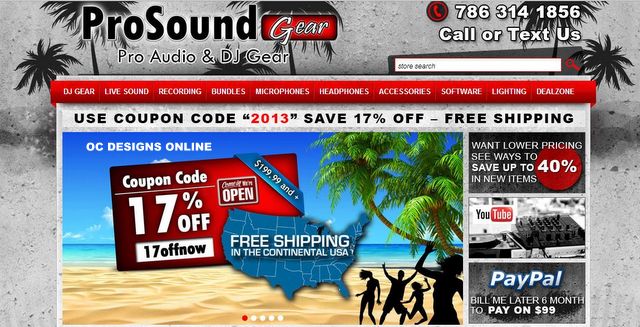 A DJ represents all things hedonistic: dancing, partying, fun and friends and it was a must they revamp their storefront with a BigCommerce store design!
ProSoundGear, a Miami-based DJ equipment and professional audio gear dealer, has an online store framed with tropical palm trees and a sandy landscape thanks to OC Designs Online.  In this Bigcommerce store design, the video microphones, control board and view of the company's warehouse is featured on the their homepage's rotating image gallery with style and flair.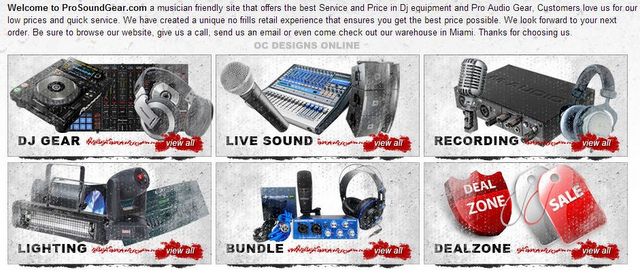 For this online retailer,  OC Designs Online decided to create a page that has a cutting edge feel, with unique radio-wave View All bursts and ragged, shadowed edges. The images we chose to feature on ProSoundGear's landing page are separated into categories for popular inventory like live sound equipment, recording equipment and bundled items and have a static-like veneer that make ProSoundGear's page stand out from, say, a pawn shop or ordinary consumer electronics store.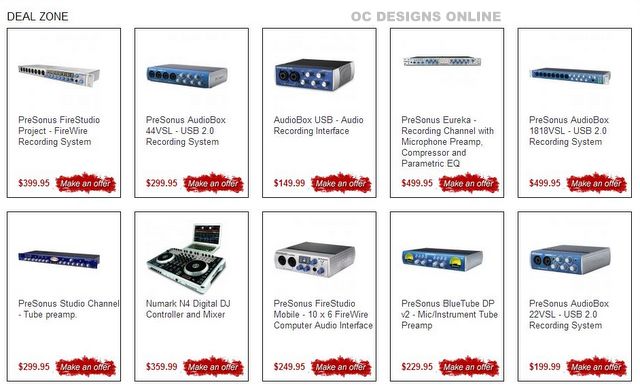 Deciding on the right DJ equipment can be a difficult decision, which ProSoundGear is fully aware of. To reach all of their clientele, both young and old, this sound gear business understood the importance of encouraging browsers to either call or text with questions.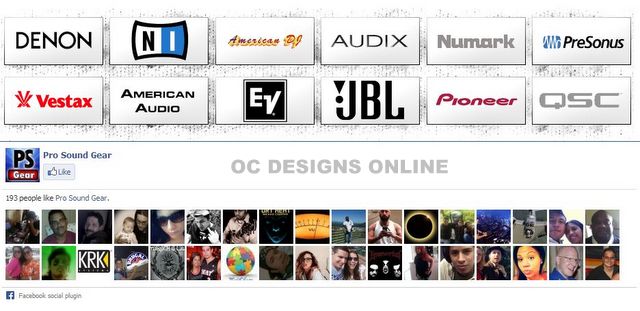 For that reason, we chose to place ProSoundGear's number prominently at the top right corner of the page. But taking the idea of connecting one step further, we've included the company's Facebook page as part of the rotating image gallery and feature profile pics of ProSoundGear fans at the bottom of the page for the entire deejaying community to see.
Pioneers of the DJ community are recognizable by logos. That's one reason OC Designs Online decided to also feature logos for the industry's top equipment manufacturers, like PreSonus, Denon and Native Instruments. These are the players shoppers will surely be looking for when patronizing ProSoundGear's Bigcommerce online store.

Are you ready to realize your dream of opening your own online store? Let OC Designs Online create your amazing Bigcommerce store. It's easy to get a quote or call us and see just how quick we can get started on your Bigcommerce store design.
We invite  you to browse our  FAQs and ever-growing portfolio for samples of our ecommerce designs. Be sure to follow us on Twitter for daily updates and see our featured work on Pinterest.