At OC Designs Online, we sure do like it when we are asked by eBay sellers from "down under" if we can help them with a new eBay store design. That's just what we did for Tyres for Less an Australian "tire" eBay retailer.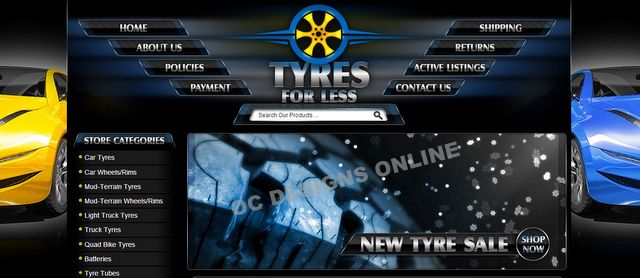 This seller offers tyers for cars, trucks and quad bikes and also carries the accessories folks need like car wheels and rims, batteries and have a line-up of Rotalla tyers and motorcycle scooter tyres as well.
For this eBay store design, we really wanted it to convey what they sell—tyres in Australia! The top of the storefront includes a centered logo and tiered store navigation bar all in bold "tire" black with complimenting blues and yellows—and a blue and yellow car serve as the background of this storefront!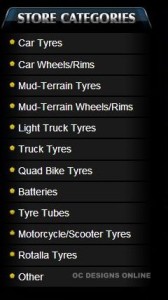 The must-have search the store tools is also on the top beneath the logo and the navigation bar contains eBay storefront essentials where buyers can learn more about Tyres for Less, their policies, shipping and return information or view all their active listings.
The welcome text box is engaging because it instantly leads shoppers to their "New Tyers Sale" where shoppers can quickly view all the new products available by clicking on the "shop now" button.
The sidebar category menu offers sub-headings based on items they sell and as shoppers mouse over each yellow-bulleted menu tab, they are grabbed with light-up yellow colors.
Under the welcome box, are the Shop by Category and Best Sellers areas—both with exciting product imagery and clickable boxes for an easy shopping experience.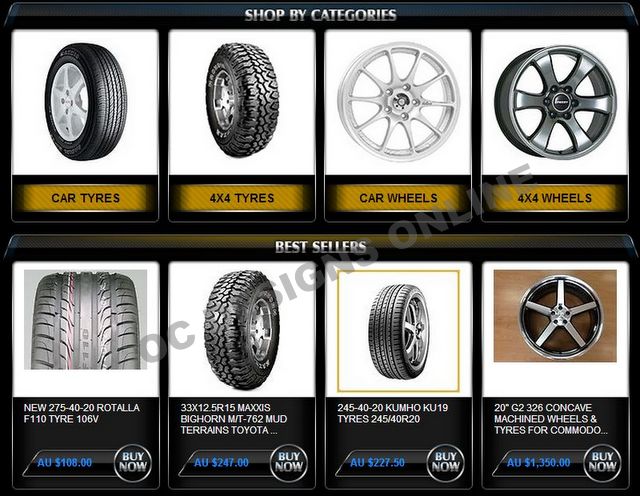 Beside the Best Seller boxes, we inserted important why-buys where shoppers learn the types of payments they accept, can read their feedback, and find out about their 24 hour service for breakdowns, that they offer free shipping and finally a place for shoppers to add Tyres for Less to their eBay store favorite list.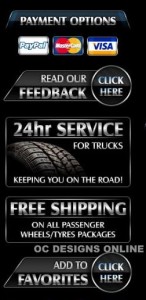 At the bottom we inserted a tyre logo to help build their brand identity and a mini site map for easy navigation.
With this new eBay store design, Tyres for Less now has an eye-catching storefront that includes graphics and images that make shoppers want to browse around and buy.
Selling auto parts, car and truck accessories and tires on eBay is competitive but with a custom eBay store design, any ecommerce retailer can excel and stand out above its competitors.
Have an automotive eBay store and want a custom design? If so, we invite you to browse our portfolio to check out some other automotive-themed eBay stores we have transformed and then request a quote to see exactly how we can change your storefront design.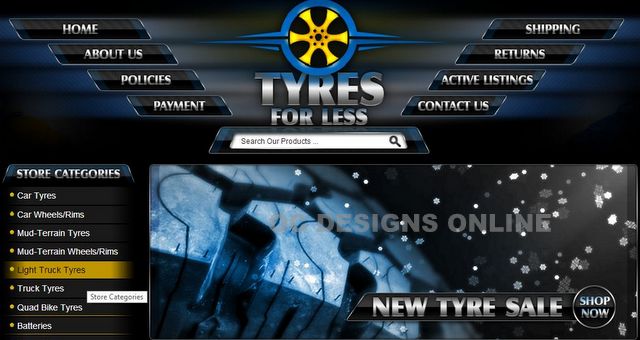 Visuals and graphics and a tasteful design are what today's online shoppers want—ready to revamp your eBay store? We thought so and we love our Aussie customers!
Don't forget to find us on Facebook!