Located in Westerly Rhode Island sits Muff's Motorsports! They sell new and used parts for ATVs of all kinds along with ATV accessories.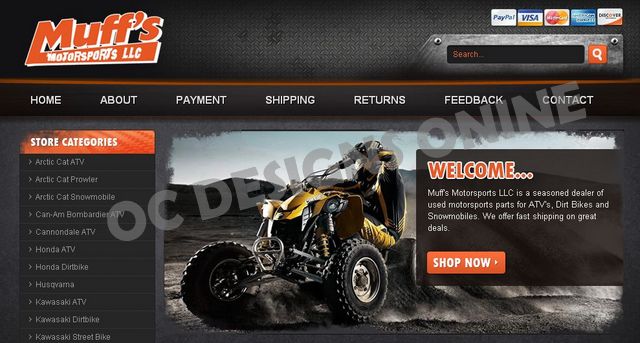 To reach a wider audience, they turned to eBay and asked OC Designs Online to help them create an eye-appealing eBay store design that matched their website and once again, we think this design doesn't even "look" like an eBay store!

Owner of Muff's Motorsports, Justin Hoffler is proud to provide high-quality parts at low prices and they occasionally sell complete quads along with new and used ATV parts. To drive online sales and reach a larger audience, we knew it was important of offer a design consistent with their website and align it with their eBay store design.
For this eBay storefront, the company orange colors and logo were both must haves. At the top we inserted Muff's Motorsports logo; in orange of course, the types of payments they accept and an easy-to-use search the store tool—also with orange hues.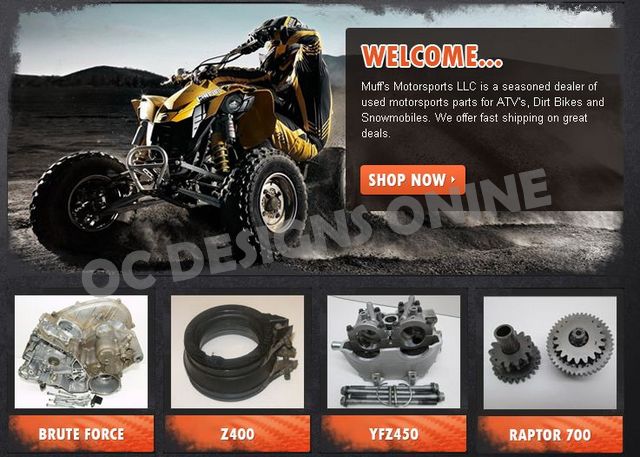 A bold orange line separates the top of the store and then shoppers can easily navigate the storefront menu as we inserted tabs to learn more about Muff's Motorsports, their shipping and return policies and tabs where shoppers can read their feedback or contact this eBay seller.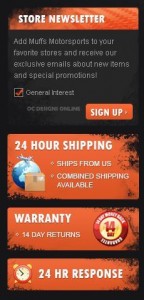 The welcome box includes stunning ATV imagery with welcome text that conveys what Muff's Motorsports is all about and a stand-out orange "shop now" button.
The left sidebar is where shoppers can browse by categories from Artic to Honda to Polaris to Suzuki to Yamaha. Beneath the category links is a place where shoppers can sign up for a free newsletter and are exposed to important why buys like Muff's Motorsports 24 hour shipping and warranty policies—all of these must-have why buys also align with their corporate "orange" color.
The mid-section of this eBay store design offers clickable product boxes—all with part and accessory images—and orange headers to keep the brand theme consistent. At the bottom of this storefront, we included a mini sitemap and repeating logo.
If you sell auto parts, tools or accessories, OC Designs Online can help you take your eBay store to the next level with enticing and stunning eBay store designs.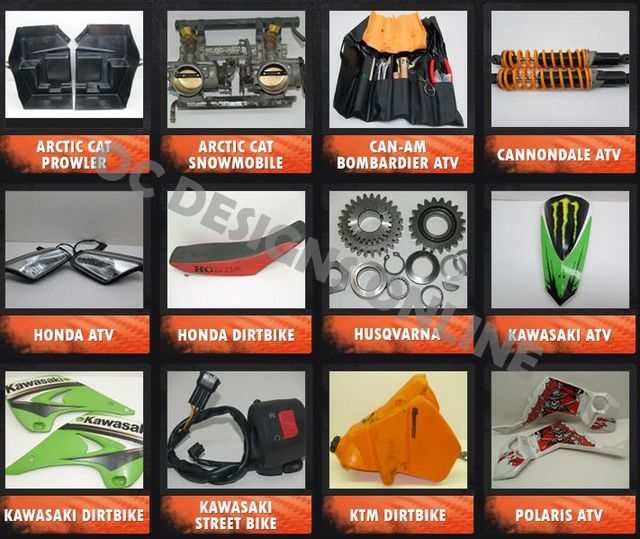 Be sure to browse our portfolio and then request a quote to ensure you capture the audience you want and sell more than ever in your ecommerce store!
Don't forget to follow us on Facebook and Google+ and be sure to check out our Pinterest page!