African art has long been treasured by many who fall in love with the designs of tribes like the Ashanti, Bamana, Dogon and Fulani as well as many others.

To help bring exciting African art pieces to people everywhere, Alobalo Arts Store asked OC Designs Online to create a stunning new eBay store design that would welcome shoppers in and help them learn more about tribal art.
For this eBay storefront our graphic designers included vibrant colors representing tribal art and the cloth they used in many of their textiles and art pieces—the result is an exciting "museum" feel that intrigues the shopper and makes them stay in the store and browse around.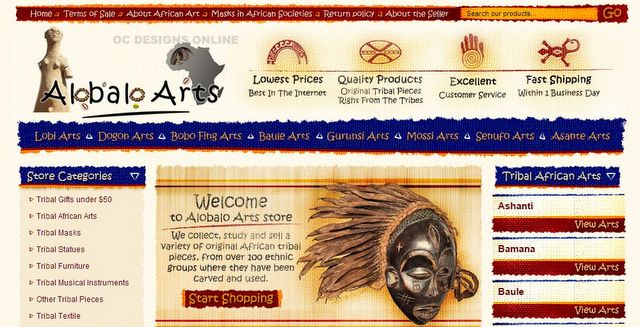 At the top of this eBay store design is a native cloth graphic navigation bar where shoppers can learn more about African art, the various masks found in African societies, read about their shopping terms and return policy and learn more about Alobalo Arts. Also embedded into the cloth navigation bar is a must-have eBay store element—a search the store tool


Beneath the top navigation bar is Alobalo Arts stunning logo and shoppers learn this eBay retailer offers the lowest prices on the Internet, that all art is directly from African tribes, that they offer excellent customer service and that all items are shipped one day after purchase—all what we here at OC Designs Online call essential "why buys." Each of these why buys have colorful African images to catch the shopper's eye.
Next comes a blue cloth navigation bar where shoppers can click on various African tribes and search for items. These art pieces include everything from Lobi arts to Asante arts.
To the left is a sidebar where shoppers can browse African art by category such as masks, statues, textiles and more.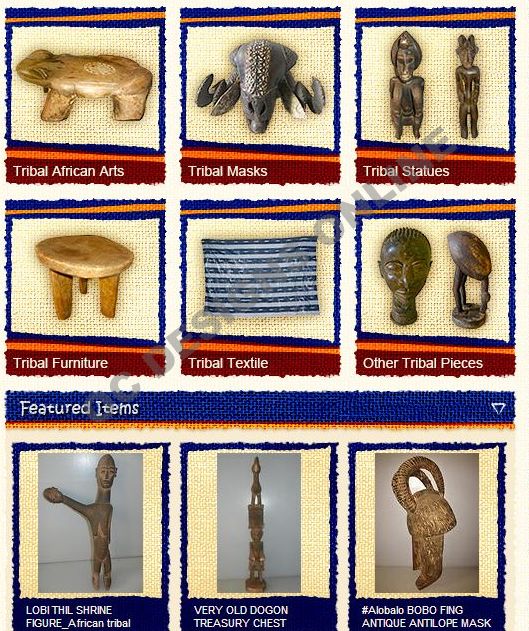 In the mid-section is the colorful welcome section where shoppers learn Alobalo Arts collects, studies and sells tribal art along with a unique tribal mask and a prominent shop now button.
To the right of the welcome to our store section is a shop by tribe menu with sub-heading that identifies the tribes this African art dealer sells.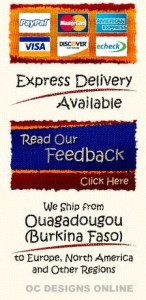 Under the welcome section are African art by category with stunning imagery and clickable boxes—it's important to have many ways shoppers can search for desired items with all eBay store designs.
Beneath the shop by category boxes are their featured products—again with African art imagery and pricing to entice the shopper to buy these featured products instantly.
Also to the left, shoppers can sign up for a free newsletter, learn this eBay retailer offers a 100 percent money back guarantee, the types of payments they accept, that they offer express delivery and a place to read their eBay feedback. Also included is where they ship from and the places they ship to—all great why buys and brand builders. The bottom of the store includes a repeating logo and a mini sitemap for easy navigation.
Throughout this eBay store design are colors representing African art the Alobalo Arts Store sells. This design screams authenticity to the shopper and reels them in—even if they just want to learn more about the pieces they sell, where they came from and their history.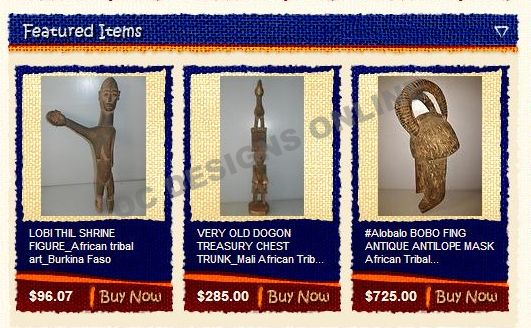 Custom eBay store designs are a must-do for specialty ecommerce stores and if you sell art, unique collectibles or antiques, we invite you to browse our portfolio and then request a quote so we can help you turn your eBay store design into something appealing, exciting, colorful and shopper friendly!