Today on the blog, we wanted to share with you a beautiful on-brand storefront design we created for Rag-N-bone on eBay. This design features an eloquent coloring choice, classically shot photos, calls to action to encourage shoppers and more. Stay tuned for the design story below, as well as some other designs you may want to see from the OCDesignsonline team.
Purposeful coloring helps set brand tone
The coloring choices for Rag-N-Bone's design really give the storefront an eloquent look. The base color is white, while a pale green, blue, and cream colors accent the categories and important information located around the storefront. It blends nicely against the white background and highlights select areas, which makes for a visual appealing, eloquent design choice that suits the antique products sold.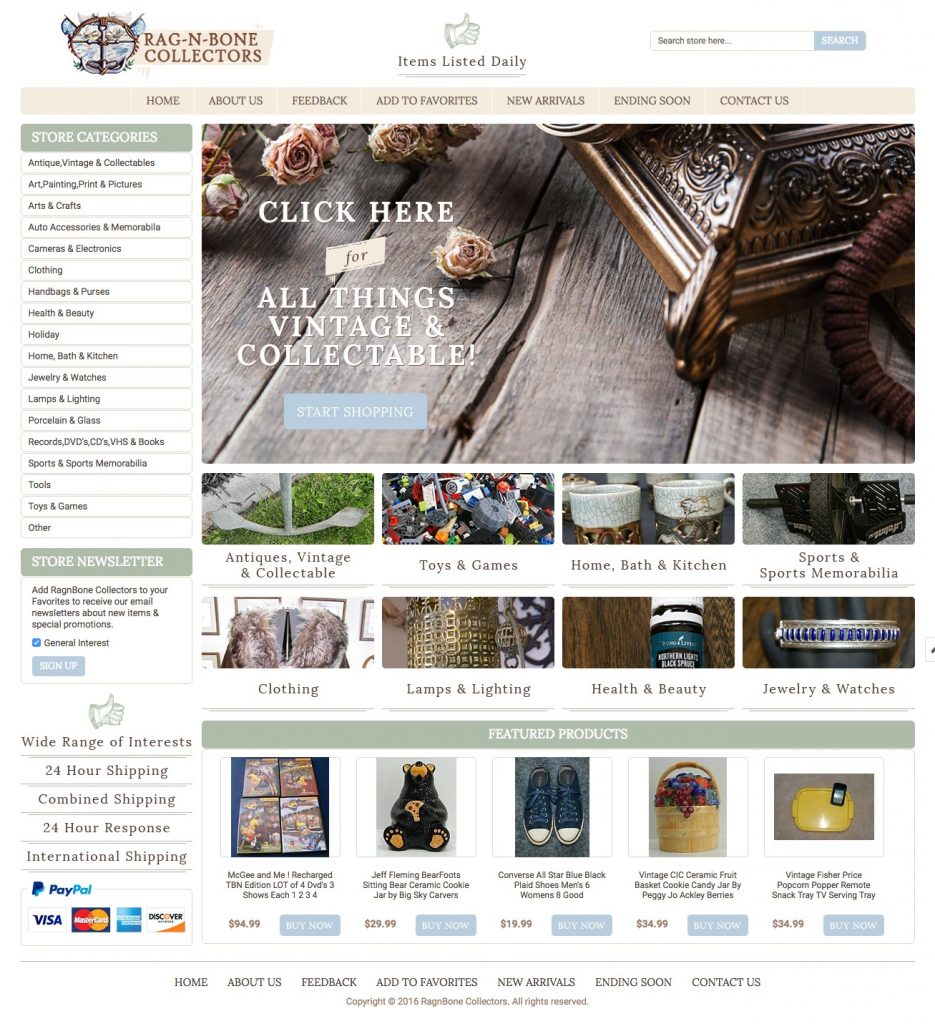 Rag-N-Bone is a beautiful and eloquent eBay storefront design, that truly presents its wares in a classy fashion.
Calls to action and valuable information follow the user around the store
As a designer, it's really important to create a design that doesn't only look good but also shares the best of the store in question in an inspiring way for customers. To do this, we created calls-to-action around the store encourage more clicks and sales for our client. For example "buy now", "click here", "start shopping" and more can be found around the store. Then, we have value-adding buzz phrases distributed on the page as well. We loved in particular letting customers know that there was 24 hour shipping options, combined shipping, and even international shipping.
If you want an eBay design that helps you impress customers at first glance, sell more products, and helps you reach your eCommerce goals than you need to contact the OCDesignsonline team for a free quote as soon as possible.
Here are some other designs you may want to explore from our team:
Request a free quote now to get started
OCDesignsonline has a large portfolio of clients, spanning several years and platforms, so browse our portfolio to get a feel of our quality of work and then request your free website design quote to see what we can do for you. Don't forget to also follow us on our social media accounts: Facebook, Twitter, Google+, and Pinterest for more updates.