Today on the blog, we wanted to share with you an on-brand and sales boosting design we created for Movo on eBay. This design features empowering colors, organized categories, and more. Stay tuned for the design story below, as well as some other designs you may want to see from the OCDesignsonline team.
Movo's Perfect use of Organic Colors
For this design we chose a combination of grey and teal hues to fit the storefront's attitude perfectly. The light, organic green tone against a white background emits a creative feel, almost as if a canvas has only been partially colored and it's the buyer's job to finish it. In the case of Movo's welcome image (that features a call to action to start shopping), we added a geometric and spray paint feel to draw the eye around the page and to the products.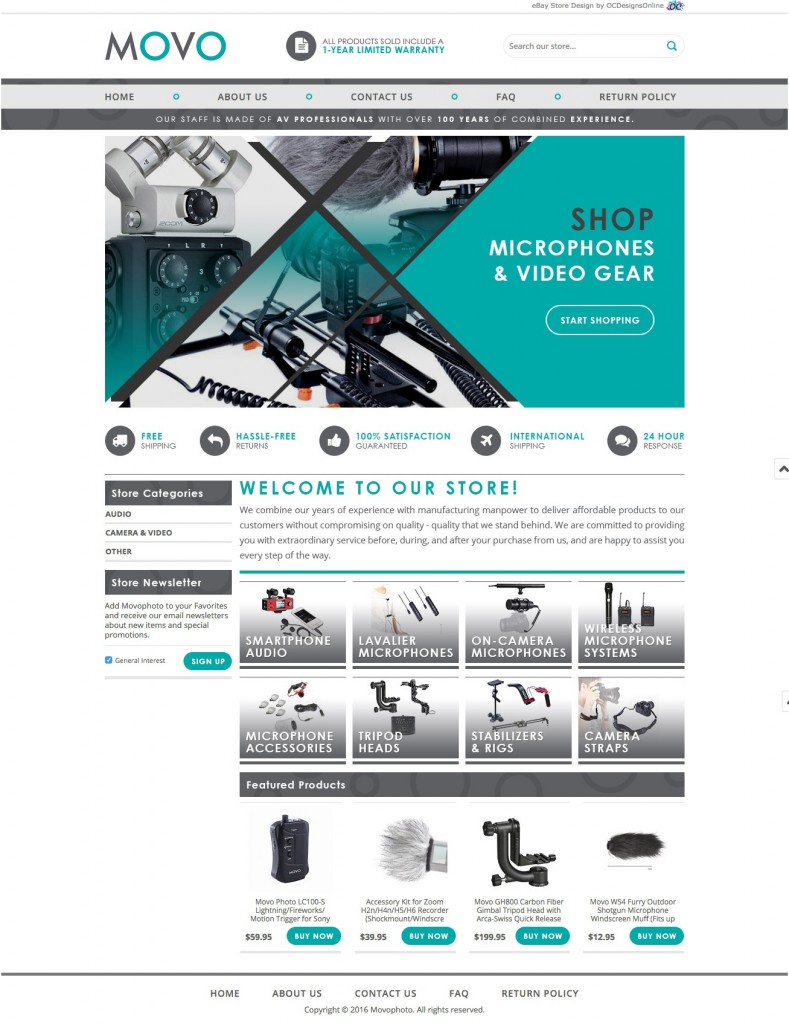 Movo's eBay storefront truly encompasses a creative spirit, while making it easy to shop with its use of categories and trust-building icons. A welcome blurb was also added beneath these icons to help show the customer-oriented approach of this store.
The Organized Categories Make for Easy Shopping
Movo's storefront is perfectly organized, with categories that properly distribute all the products sold into searchable portions. The left side of the storefront features a simpler organized set of categories (which includes audio, camera & video, etc.), while the middle set of categories has a bit more of a detailed organization (with options such as Smartphone Audio, On-Camera Microphones, Camera Straps, etc.). All in all, the organized sections featured on the site are perfect for those in a hurry or those wanting to dive into Movo's eBay storefront offerings.
If you want an eBay design that helps you impress customers at first glance, sell more products, and helps you reach your eCommerce goals than you need to contact the OCDesignsonline team for a free quote as soon as possible.
Additional posts from our team:
Request a free quote now to get started
OCDesignsonline has a large portfolio of clients, spanning several years and platforms, so browse our portfolio to get a feel of our quality of work and then request your free website design quote to see what we can do for you. Don't forget to also follow us on our social media accounts: Facebook, Twitter, Google+, and Pinterest for more updates.