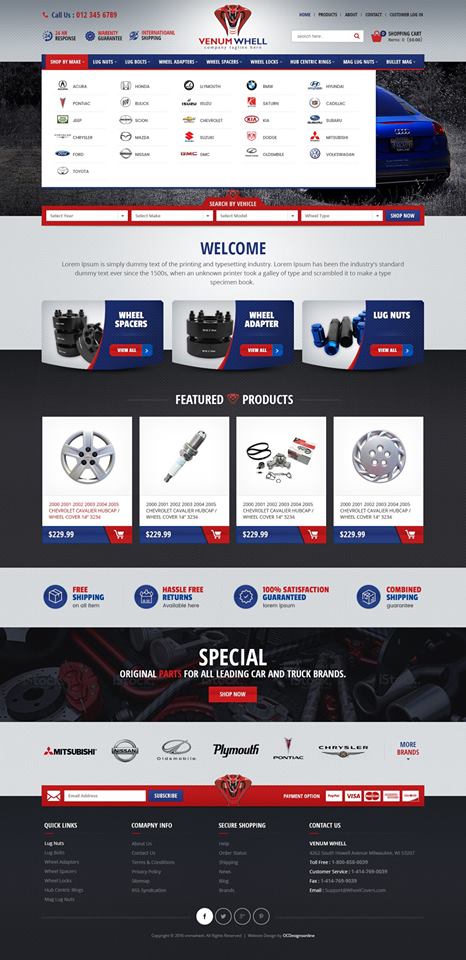 On the OCDesignsonline blog we have been sharing hundreds of posts on website design tips, design stories from our clients, and general eCommerce tips we think all store owners should follow. Today we have a specific post to add to these series of resources, a look into Shopify web design and why you should hire us as your Shopify designers.
We have been working in design for several years, with thousands of designs created for our happy customers. We've had national clients, like Microsoft, and even clients that have come to us after having a difficult time with other design companies, like Ultimate Autographs. No matter the industry, we've seen it. Our team has created designs all kinds of genres, including but not limited to jewelry, clothing, automotive, coin collecting, electronics, and many more.
As a Shopify designer, we have the experience you need. Feel free to check out our store design portfolio for more.
Questions to Consider when Pursuing a Design
The first step for Shopify store owners considering a new design is to ask yourself a few questions.
Is your website responsive to mobile phones and different screen resolutions?

Does your site accurate represent your brand?

Do you products stand out?

Are you getting found in search?

Does your website encourage more browsing?
If you answered no to any of these questions, you should consider a custom Shopify design.
Why should you get a professional design?
Instead of buying a stock out-of-the-box template from a generic Shopify designer, working with a custom template designer is essential because then the design can be tweaked to make sure your company is advertising its local SEO, marketing products as they should be represented for that genre of products, and exceeds what you'd see from a competing Shopify store. We create the designs that make companies shine, not blend in, because each store has different strengths and weaknesses.
Are you ready?
If you want your store to stand out in the best possible ways, bring in additional customers, and have a Shopify mobile responsive design, you need to contact us for a free design quote.
Happy Clients
Here is a little peek at one of our recent Shopify design clients, American Tractor Restorations. We created for them a textured all-american design, to fit in with their brand-identity, while adding in the features we knew would help them sell more products. For example, a Featured Products widget, call-to-action banner, and Advanced Search capabilities to help customers that have particular items on their shopping list. We've worked with many Shopify stores in all different genres so we have the advantage of experience to help guide what features to add in different design templates.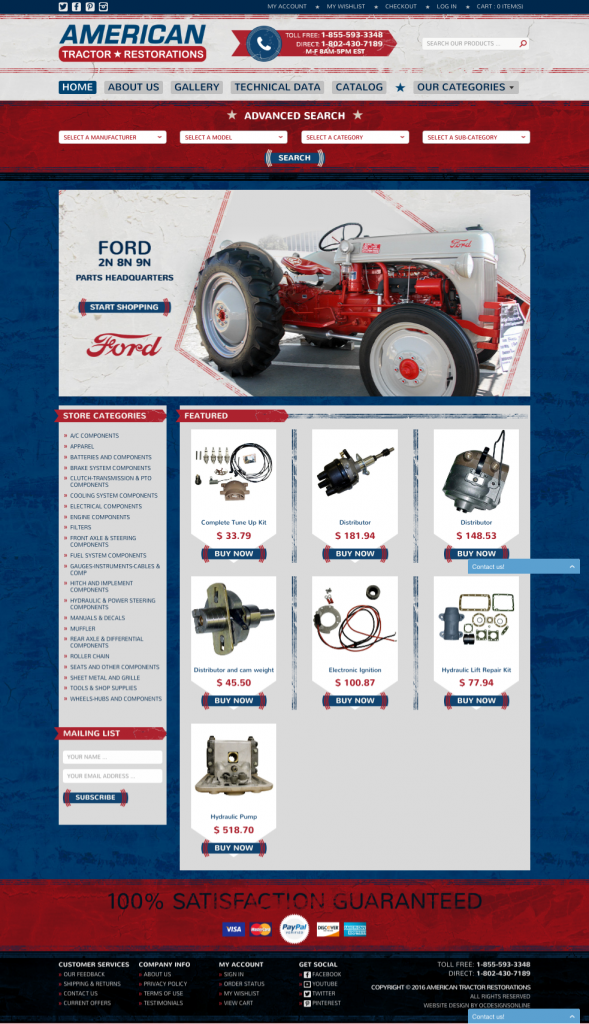 To help customers feel secure with their purchases we shared American Tractor Restorations' contact information in several easy to find locations (which also helps their local SEO), added a floating contact us button to all pages, as well as displaying their 100% satisfaction guarantee and their accepted payment methods (including a Paypal Verified button). These small elements all together help customers feel drawn into new stores, encouraging more sales.
Request a free quote now to get started
OCDesignsonline has a large portfolio of clients, spanning several years and platforms (including Shopify eCommerce web designs!), so browse our portfolio to get a feel of our quality of work and then request your free website design quote to see what we can do for you. Don't forget to also follow us on our social media accounts: Facebook, Twitter, Google+, and Pinterest for more updates.