One of our recent clients has the company slogan of "smiling more and paying less" and we couldn't agree more with the sentiment. That client was Collections Etc, a hobby and home decor store that specializes in unique gifts, whimsical items, and so much more.
Today we are sharing the design we created for this client and how it is helping them now sell more with their customers.
This friendly design works well with their target audience
We created a green and gold design to help our client relate with their target demograph, a group of individuals looking for houseware that feels inviting and not flashy – a more low-key look to suit the products and those that love them.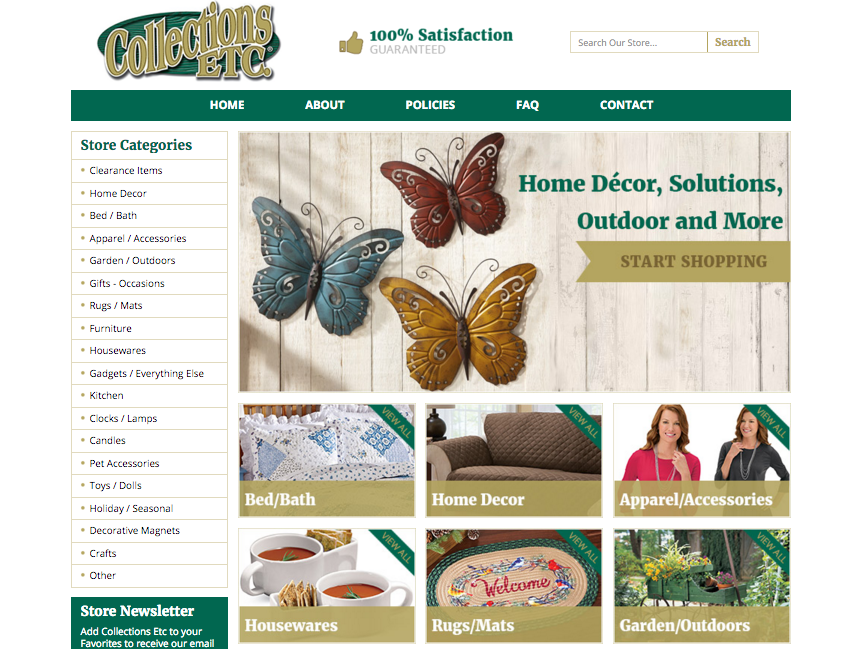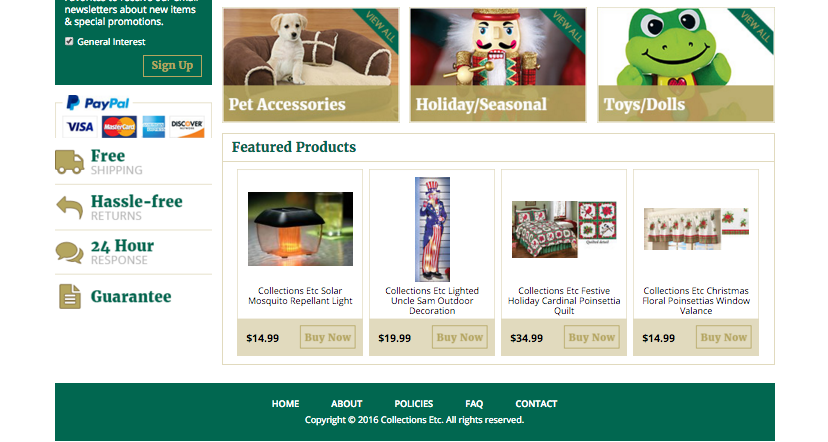 Our design team also put together a "Why shop with us?" section beneath the newsletter sign up because it helps customers see some of the policies this client brings to customers, sharing their values and helping customers better decide to shop with them.
Featured products and engaging category images help products sell more
When it comes to helpful widgets, we find Featured Products is one of the most impactful designers can use on eBay to encourage sales. Not only do they help prospective customers see more of the store at a glance (an impression of the quality of their products and prices) but they also encourage more impulse buys and browsing.
The clickable category images also engage customers by showing examples of all the categories this store represents, while adding subtle calls to action to get customers to browse more.
All together, these little elements with a thought out approach to the design helps our client sell more and stay memorable – which is something we can do for your eBay storefront design as well.
Other design stories you may want to explore:
Request a free quote now to get started
OCDesignsonline has a wide array of eBay listing templates to choose from on the site. Take a moment to browse our portfolio and request a free quote. Also, don't forget to find us on Facebook, follow us on Twitter and check out our Google+ Page too!