Buying a watch is a very personal decision, more so than other accessories because of the many connotations watches bring. They feel almost like part of your identity, so we were excited when we received a free quote request from Timezone 123, a watch seller on eBay that takes their customer's business seriously.
This design features rolling reels
One of the most eye-catching features in the eBay storefront design we created for our client besides, of course, the well thought out placement of all of the widgets and white space, is the rolling brand reel and moving Featured Products section.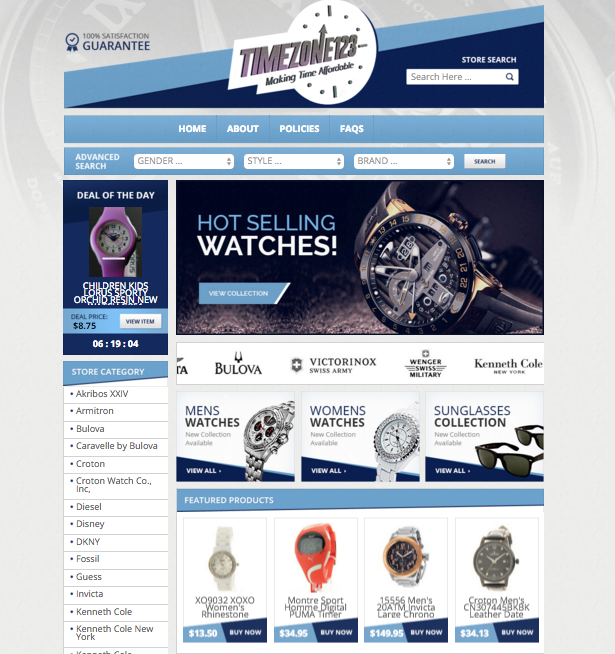 These moving elements draw the eye and make customers stay longer on the page, making it more likely for them to browse the store and buy new products.
The Deal of the Day widget helps products sell faster
Watch shoppers would find a Deal of the Day section really exciting, encouraging them to come back to this store several times to check the deals until they find the watch of their dreams. Along with the clickable category sections, Featured Products, stunning welcome image, and the advanced search field we've created — every single element in this design encourages browsing and repeat customers.
If you want a design that helps your store and your products stand out, contact our team right away.
Samples of our other jewelry clients:
Request a free quote now to get started
OCDesignsonline has a wide array of eBay listing templates to choose from on the site. Take a moment to browse our portfolio and request a free quote. Also, don't forget to find us on Facebook, follow us on Twitter and check out our Google+ Page too!