Today we are sharing with you the beautiful design the OCDesignsonline team has created for Tradewinds Booty, a small home-based eBay business that sells hand-picked deals from store closeouts, clearance events, and more. This store aims to help their customers have an amazing day by having stellar customer service and speedy shipping. With this new design we've created for our client, we know they are going to earn even more.
We created an eBay storefront design to match the name of the store
With a name like Tradewinds Booty, we knew we wanted to create a design that would show the spirit of the name, a tropical location filled with treasure. So we started by finding a background and welcome image that would emphasize the excitement of treasure, having the sand blur into a beautiful shell color.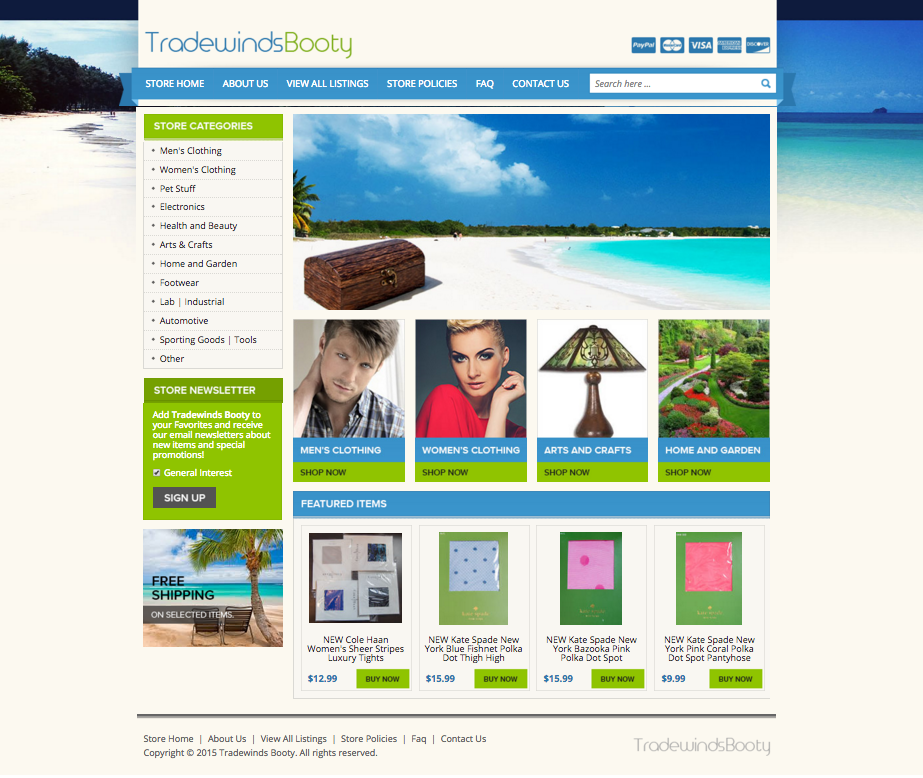 Then we chose clickable category images, a free shipping banner, and a color scheme that would match that tropical feel.
The real money maker for our client, however, is the Featured Items section where new and returning customers can see some of the new offerings from our client at a glance. Sections like these that feature products or limited time deals always incur more clicks and sales than average.
Other similar design clients:
If you want a design that suits the spirit of your store, contact us right away. We know what works and what doesn't depending on your eBay sector, a design with us is an investment that will help your store succeed.
Request a free quote now to get started
OCDesignsonline has a wide array of eBay listing templates to choose from on the site. Take a moment to browse our portfolio and request a free quote. Also, don't forget to find us on Facebook, follow us on Twitter and check out our Google+ Page too!