We love when we get free quote requests from yet to be opened stores, as we know that this client is going to take their store as seriously as possible from the beginning by creating a great first impression with customers.
Today we are sharing with you the recent design we have created for Shop A Deal. Check out their design success story below and then make sure to request your own quote so that your store can start performing better than it ever has.
Shop A Deal's vibrant store is going to bring them more customers
With a professional design that shows the excitement that shopping can bring, we know our client is going to sell more than the average new seller once they start listing products. We used a bright yellow to draw the eye and tied that color into many important elements throughout the store.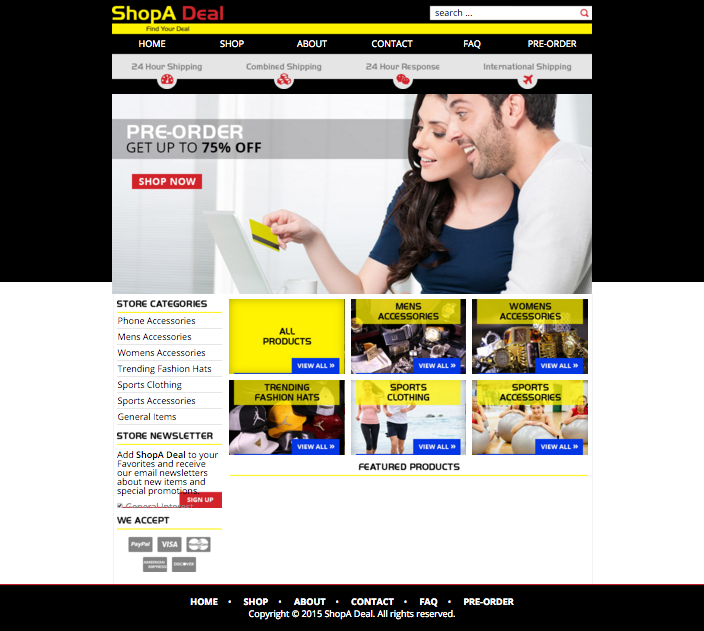 In the welcome image we created for this store, we made sure to highlight the unique feature available from our client, the fact that they accept pre-orders of products. We also highlighted their store guarantees, like 24 hour shipping and fast customer service, above this welcome image so that customers can feel trust with our client before they even make a purchase.
With a clickable category area, as well as an expanded text category area to help keep this site indexible for SEO purposes, we know we've created an engaging store. The pop of blue View All button in these category images really helps this area engage in more clicks.
Other similar eBay stores we've designed for:
Congratulations Shop A Deal on your new eBay storefront! We are honored to be part of your brand story.
Request a free quote now to get started
OCDesignsonline has a wide array of eBay listing templates to choose from on the site. Take a moment to browse our portfolio and request a free quote. Also, don't forget to find us on Facebook, follow us on Twitter and check out our Google+ Page too!