eBay is an amazing destination for clearance items because many of the wholesale item sellers are able to avoid a lot of the overhead that traditional stores may experience, among other reasons. We love being part of the process, helping stores reach more customers and in turn helping bring to many the joy of a great deal.
Today we are sharing with you the design the OCDesignsonline team created for Factory Clearance Center, a wonderful store with many items on sale daily.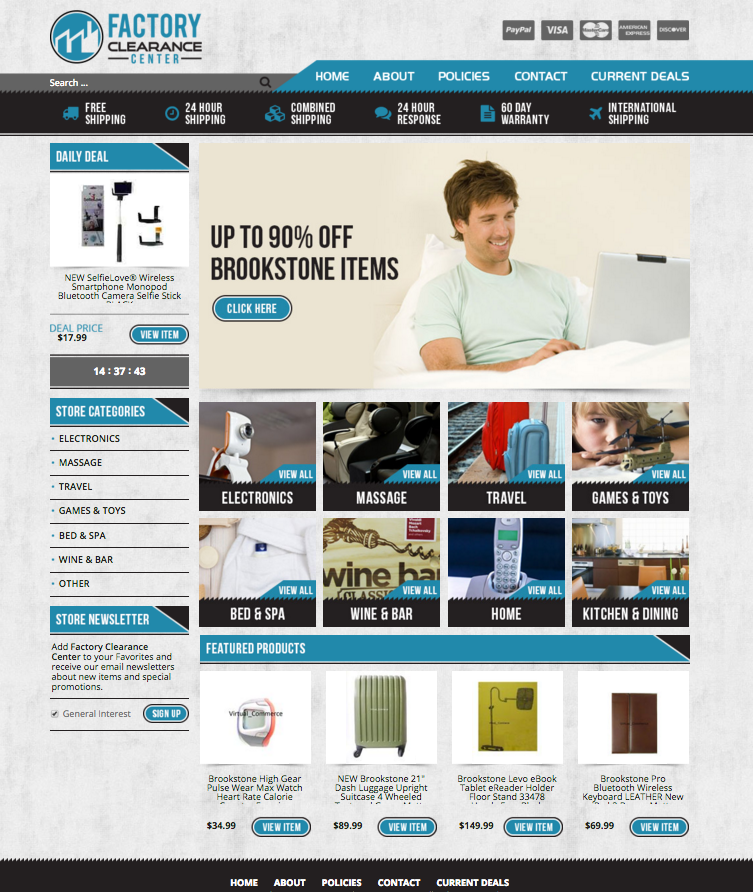 "Why shop with us?" Banners help build trust with customers
With Factory Clearance Center's amazing customer service guarantees, we knew that we would have to use a "Why shop with us?" banner section in this store. This value adding area helps new customers see what they can gain from a store at a glance, which is a powerful tool in gaining trust with customers.
With an unheard of 60-day warranty on all items, 24 hour response times, fast shipping, and more there was a lot to promote in this customer converting area.

We set up this gray, blue, and black store to not only feature a Daily Deal area but also a Featured Products section, which are both sections that help convert customers faster while also bringing in more impulse sales.
The View All, View Item, and Click Here clickable buttons we have set up throughout this store also helps encourage more clicks with calls to action, while the jagged line details add interest to the design.
Other clearance stores we have designed for:
Selling more on eBay could be as simple as getting a new design. We know what works and what doesn't for eBay storefronts and we have experience in all sectors of this popular seller website.
Request a free quote now to get started
OCDesignsonline has a wide array of eBay listing templates to choose from on the site. Take a moment to browse our portfolio and request a free quote. Also, don't forget to find us on Facebook, follow us on Twitter and check out our Google+ Page too!