Hello from the OCDesignsonline team. Today we are sharing with you another recent success story, a look into the design we created for ChromaLeaf, a company that specializes in selling cables and connectors and inkjet refill kits. We had the pleasure of designing a new eBay storefront for this client, which helps them stand out in a sea of other sellers.
"Why shop with us?" banners help our clients sell more
Creating a banner that promotes certain aspects of a store is a great tool to help potential customers see the benefits they can gain from our client. For this store, we have shared their free shipping, hassle free returns, satisfaction guarantee, and their worldwide shipping.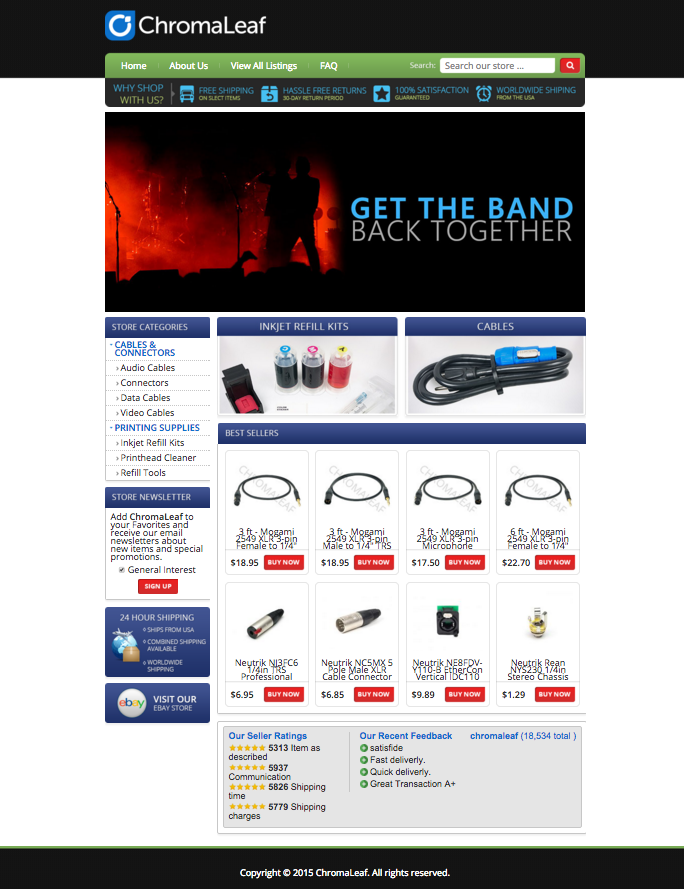 This helps our clients build trust with new customers that may want to know more about a store before they shop with them.
Sharing seller feedback helps eBay stores stand out with customers
For this seller, we knew that they had a large amount of five star eBay feedback. With a client like this, we knew we had to share their recent feedback so that potential customers would know that they can trust this seller with their patronage. If you have amazing customer service, you better share it! Customer feedback is not just to let you know how you're doing, it's to tell other customers how you are doing as well.
We also added a "Best Sellers" section, rather than a Featured Products widget, to help share some of the items that do the best for ChromaLeaf, which can help customers decide where to start with their purchases.
Recent eBay designs:
If you need help getting your eBay store to perform better, it's a great idea to start with a design that shows your products in the best light. We can help you do that, no matter what eBay sector you sell for. Grab a free quote now before the holiday rush.
Request a free quote now to get started
OCDesignsonline has a wide array of eBay listing templates to choose from on the site. Take a moment to browse our portfolio and request a free quote. Also, don't forget to find us on Facebook, follow us on Twitter and check out our Google+ Page too!