Jewelry shopping is such a fun experience and because of that, we at OCDesignsonline are always so excited when we get to help an eBay seller in the jewelry sector improve upon their store with a high performing and perfectly styled design. Today we are sharing with you the design story for Diamond Bazaar, a jewelry seller that specializes in wedding rings, gold chains, diamond pendants, and more.
Other featured jewelry designs from our team:
Rolling slideshow banners encourage customers to stay longer
For our client, we knew we wanted to feature a moving welcome area. These slideshows encourage potential customers to stay longer on a page because they stop to see everything a seller is advertising in this section.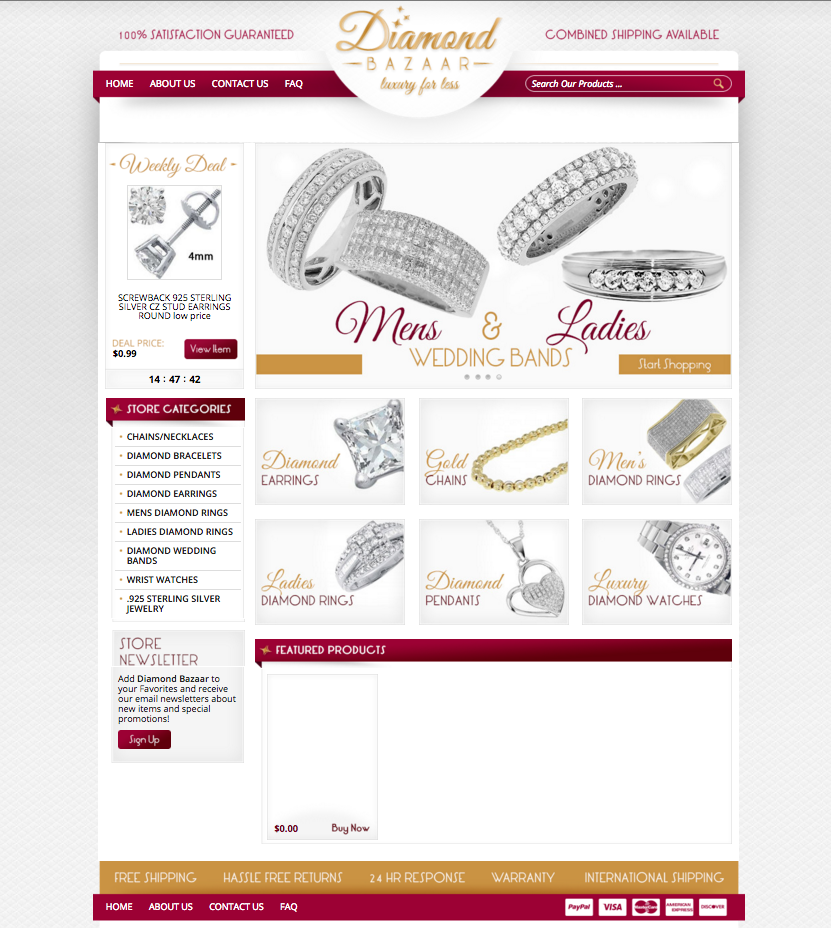 For our client, we featured some of the different categories available like wedding rings and pendants.
These jewelry welcome images pop nicely in this red, grey, and gold design.
Weekly Deals and Featured Products help stores sell more
For this store we made sure to use both Weekly Deals and a Featured Products section so that our client can gain more sales on seasonal items (like snowflake necklaces in the Winter) and trendy pieces that are on sale.
As you can see, our client has already sold out of all of their Featured Products. These sections sell more, guaranteed. This is for many different reasons but mainly because it shows a customer what is available at a glance, which helps encourage more impulse sales.
If you want your store to sell more, you need a design team that knows what works and what doesn't. Request a free quote now to get started selling more.
Request a free quote now to get started
OCDesignsonline have a wide array of eBay listing templates to choose from on the site. Take a moment to browse our portfolio and request a free quote. Also, don't forget to find us on Facebook, follow us on Twitter and check out our Google+ Page too!