One of the main goals we have as designers at OCDesignsonline is to make sure that we are creating a storefront that shows the best of our clients. Which is why we love to create "Why Shop With Us?" banners in many of the stores we design for.
Today we are showing you the design we created using this technique for Partsify, a spare parts seller that specializes in fast service.
Show a customer what you have to offer and they will respond
By creating these types of banners, we are creating a clear message for potential customers that our client has a value they can benefit from. It's a simple yet powerful tool.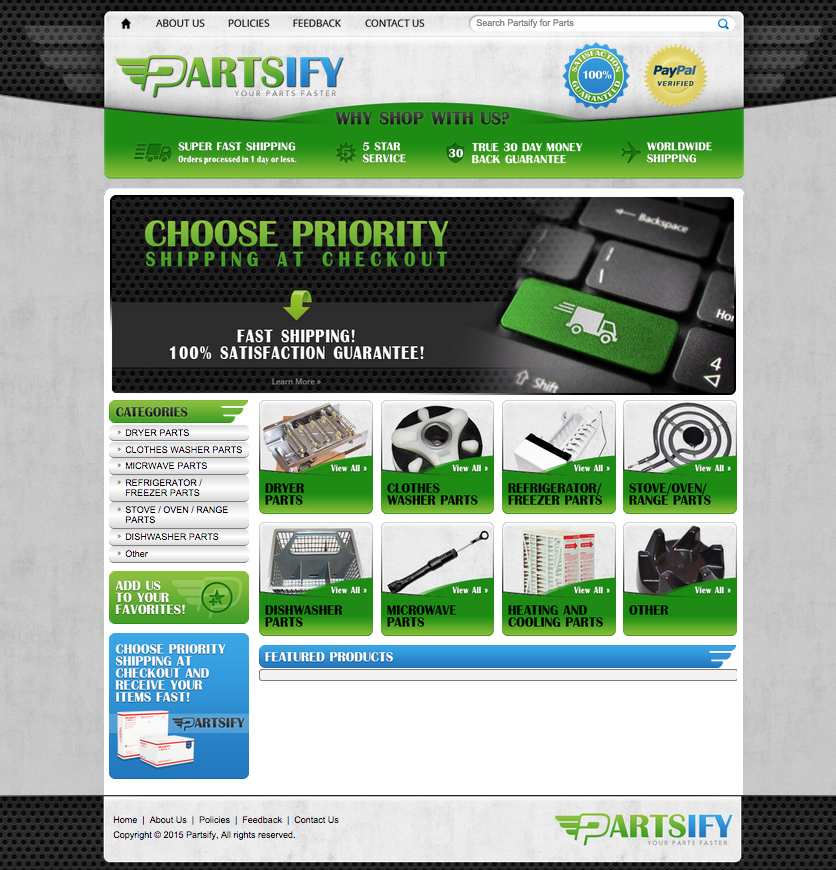 In this customer encouraging banner we added a few storewide guarantees like their customer satisfaction promise, Paypal verified logo, fast shipping, and 5 star rating. These little things increase positive associations with customers and helps them feel more trust in our client.
Especially when a customer is deciding between two different eBay sellers, showing these kinds of guarantees out in the open makes a significant difference in this way.
Custom eBay templates bring in more customers
In addition to the custom category pages, having a eBay listing template brings in more customers. With the addition of the "Why Shop With Us?" banner, it becomes even more important to see in the listing description because then they know more about our client before they even click to see the storefront.
eBay customers look to the listing description for additional information about a product and when they see this encouraging banner and brand image, they are much more likely to look more around our client's store and add more to their carts because most listing descriptions only hold a few HTML codes and not much else.
Having a listing template shows potential customers that our client is different from a generic person selling just an extra item they have in their garage. It helps build trust immediately.
If you want to build trust with potential customers and make your store shine over other sellers, you need to contact OCDesignsonline for a free quote right away.
Contact us for a free quote today
OCDesignsonline have a wide array of eBay listing templates to choose from on the site. Take a moment to browse our portfolioand request a free quote. Also, don't forget to find us on Facebook, follow us on Twitterand check out our Google+ Page too!