At OCDesignsonline we feel a deep sense of pride when a trusted eBay seller contacts us to give them a new design and help them incur even more sales. We had such an occasion recently with the brand Best Connection, and their store of wires and other connection parts.
Best Connection and it's owners have been selling on eBay for over 10 years so we created a "Why Shop With Us?" section just below the header advertising that fact along with a few value adding aspects of this store.
To the left of the storefront, we showed an expanded list of categories. Since this story covers many aspects of wiring and other connective products, we knew that letting Google search engine crawlers index all of these categories would benefit our client.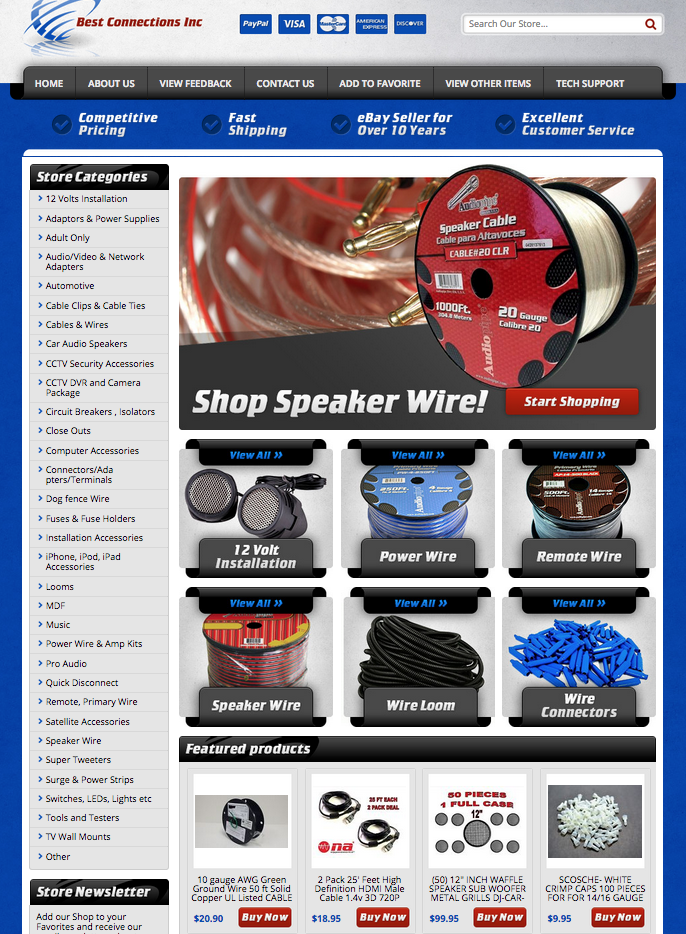 Then in the middle of the store we have a few photo categories to emphasize common areas where our client's customers shop. Beneath that we have a section with some featured products and also below that a featured brands area. Having certain sections featured over others is a good way to increase general browsing in a store.
Additionally, we helped Best Connection show regular eBay sellers the benefit that our client has shown other eBay users. In the header we added a seller feedback area and an add to favorites button. This helps the regular eBay users see what other customers have had to say so that they can feel more trusted in their decision.
If they don't have the time to order now, customers can also add our seller to their favorites for later viewing. These little things are great ways to make sure eBay sellers can gain consistent proactive customers.
Last but not least, we also added a few other small things around the store like what payment methods are available and a hassle free return button.
Contact us for a free quote now to get started
OCDesignsonline has a wide array of eBay listing templates to choose from on the site. Take a moment to browse our portfolio and request a free quote. Also, don't forget to find us on Facebook, follow us on Twitter and check out our Google+ Page too!