Australia-based full service firm Graden Consulting is a family-owned and operated company offering BAS Agent, Bookkeeping and Business Management Services. They are committed to providing unparalleled business financial services to their clients and receive a great deal of repeat business. Aside from word of mouth, the vast majority of their clients find them online.
Recognizing the importance a strong web presence can have on business generation, they turned to the experts at OC Designs Online to craft them a custom web design. Now they are reeling in traffic and signing new customers like never before!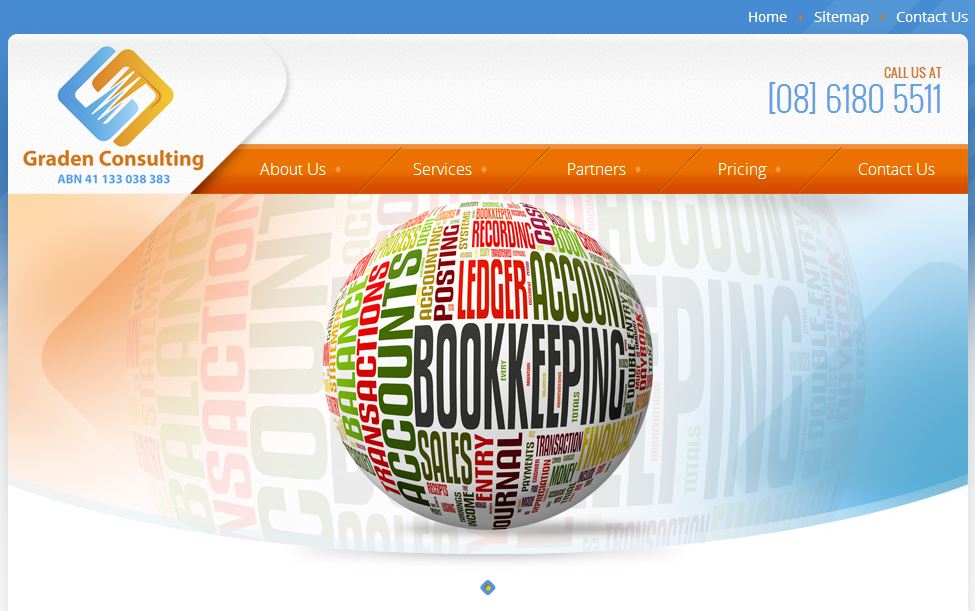 Graden Consulting leads with a custom blue and orange logo, interlocking to mirror the relationship between client and agent. Their customer service number is listed directly right, ensuring questions can be addressed immediately. Above, additional contact information is easily accessible, along with a sitemap link.
An orange navigation bar invites visitors to review company information, explore the services offered, see Graden Consulting's partners or investigate pricing.
A hi-res spherical graphic below incorporates corporate lingo, projecting a professional and innovative ambiance to the welcome spread.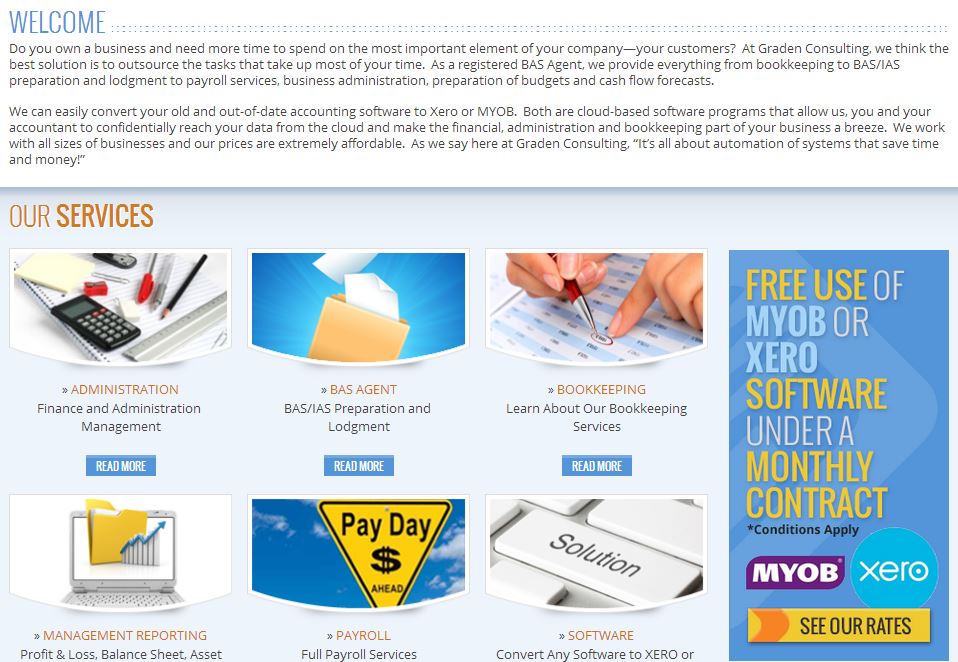 In the midsection, a carefully crafted welcome message provides visitors with a succinct company profile and encourages people to take advantage of automation of systems that save time and money.
Next, our design experts aptly lay out Graden Consulting's top six services including administration, BAS/AS preparation, bookkeeping, management reporting, payroll and software within plane view of current and potential clients.
In the right sidebar, a colorful graphic promotes free use of MYOB or Xero software while under a monthly contract. At the bottom a link invites interested parties to 'see rates' with the click of a button.

Finally, a custom footer organizes key company information to help direct customers. Partners' logos appear centered, sectioning the 'about us' and 'services' tabs from Graden Consulting's contact information. By making contact info highly accessible instead of hiding it behind a tab, those folks interested in taking advantage of their many services can do so immediately.
Selling your services to Australia-based businesses is highly competitive. If you want to really make a mark online, see how you could benefit from a custom web design. Having a professional looking landing page helps to build trust and consumer confidence—as well as brand loyalty.
Let OC Designs Online show you how we create something stunning and memorable that potential clients will remember.
Be sure to browse our design samples in our portfolio and find us on Facebook. Follow us on Twitter to stay up-to-date on ecommerce trends!