Broken cell phone screens are all too commonplace today. The shattered glass on your phone is not only inconvenient, but also dangerous. Brisbane iPhone understands this need and has joined forces with OC Designs Online to better service its customer base.

Brisbane iPhone Repair now has a sleek online storefront bathed in grey hues. The company is unique in their approach to phone repair. Customers have the option to send in their phones for repair or can request kits to fix their devices at home. The Design elements were carefully laid out to reflect the tagline "You Repair. We Repair", highlighted in the logo.
Jump right and shoppers have the option to view their account, order status, wishlists or cart. The top right corner of the page also prominently features social media links to the company's Facebook page and youtube channel for easy connectivity.
The main navigation pane invites customers to pick from a list of six clickable links where shoppers can find and view more information about the two ways to repair their phones.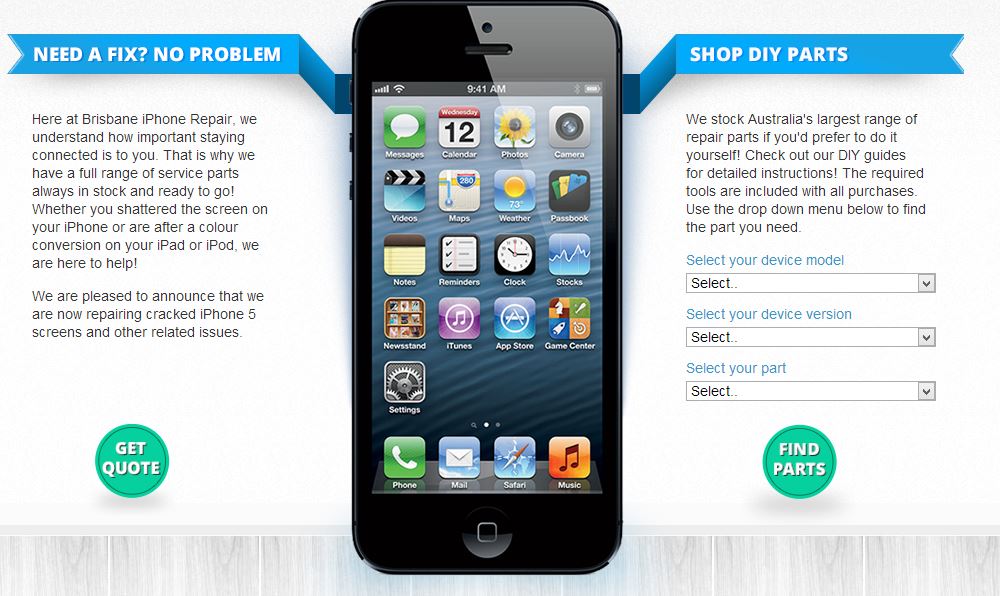 Taking up the most real estate on the landing page is a straight forward, hassle-free way for customers to get their phones back to working condition. Here, shoppers can select one of two circular green icons to start the process by electing to get a quote or find parts.
For those shoppers in need of DIY Parts, convenient drop down menus help make finding the right part a cinch.

Directly below, are three additional information panels to help guide the shopper with installation instructions, details on free-shipping, or mail-in repair specifics.

Closing out this Big Commerce store design are media, info support, a mini sitemap and Payment Options with sub-headers that connect shoppers to useful ecommerce selling tools.
The site also proudly displays trust and brand building tools included in the website's footer. This area includes a Better Business Bureau accreditation, an AuthorizeNet Verification and Volusion SSL Security Certificate—a must to convey to customers their online purchases will be safe and secure.
Are you ready to realize your dream of opening your own online store? Let OC Designs Online create your amazing Bigcommerce store. It's easy to get a quote or call us and see just how quickly we can get started on your Bigcommerce store design.
We invite  you to browse our  FAQs and ever-growing portfolio for samples of our ecommerce designs. Be sure to follow us on Twitter for daily updates and see our featured work on Pinterest.