Selling children's formal wear from Ontario Canada, Adorable Kids has teamed up with OC Designs Online to present products in their best possible light to online shoppers as well as those who visit the warehouse on 716 Wilson Road South in Oshawa Ontario. The Volusion store design method relies on a crisp layout with easy to distinguish search options.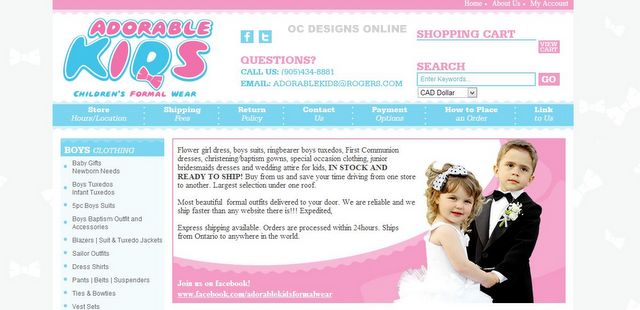 Our graphic designers chose light pink and pastel blue as the primary colors for the site. The backdrop is very light, which makes these colors stand out. At the very top of the page is a bar that features three clickable links, which take the shopper to the home page, an "about us" page and allow for signing-in to a personal account.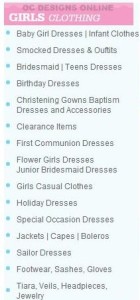 Right below this bar is the Adorable Kids' logo with its pink and blue letters as well as a stylized bow under the letter "D." Offering up a Facebook and Twitter icon, the company invites shoppers to connect via social media. For questions, Adorable Kids suggests a contact telephone number and an email address. To the right is an option to view a shopping cart and conduct a keyword search. Right below this option is a drop-down box that lets buyers receive the cost of items in Canadian or American dollars, British pounds or EU Euros.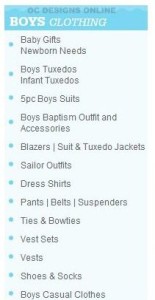 In the first segmented horizontal navigation bar, there are clickable links that take the buyer to information about the store, shipping fees, their return policy and payment options. There are also options to contact the company, learn how to place an order or link to the site. An eye-catching photo of a small boy and girl in well-tailored formal wear comes next. In the welcome section, shoppers can read important verbiage such as how their outfits are in stock and ready for shipment.
On the left side of the page are two basic categories that separate boys and girls' clothing options. Subcategories make it easy to look for sailor outfits, christening gowns and wedding outfits. Toward the middle of the page are eight stunning pictures of the most popular categories. Buyers see what boys' baptism outfits and girls' special occasion dresses look like. It is easy to click on these pictures and immediately access the available inventory.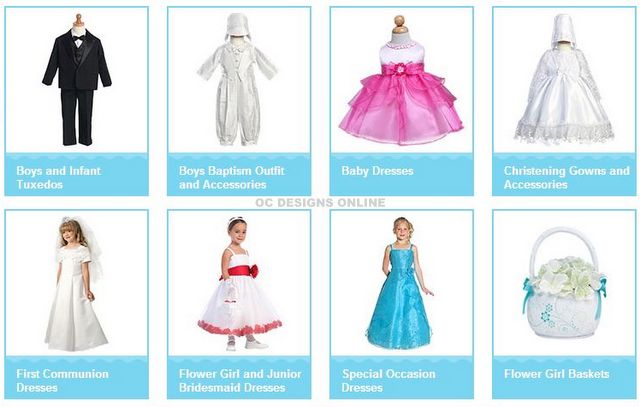 For the shopper in need of some inspiration, the Volusion store design offers a featured items section with four selections. It highlights beautifully what types of dresses and pants are available in a variety of sizes.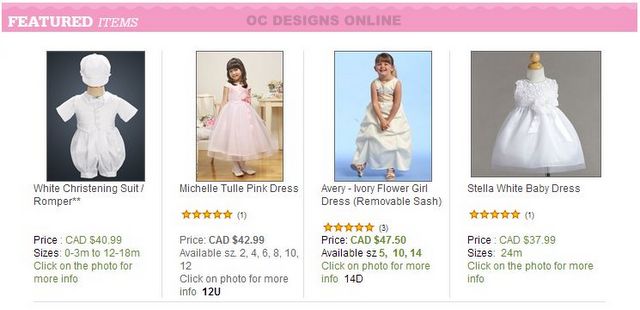 Underneath this section are a few more paragraphs that discuss the products Adorable Kids sells and the formal functions for which these items are suitable. To the left is an announcement that explains how costs at this store are generally 70 percent less than what buyers may pay at bridal shops.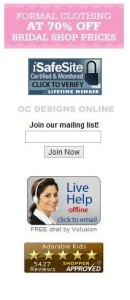 The store also provides an announcement showing their safety certification for the site, an invitation to join the mailing list, the offer of live help, and another group of clickable search links. Shoppers are sure to appreciate the crisp layout of this Volusion store design and the many search options that make narrowing down the right selection of products quick and simple.
Let OC Designs Online show you what the Volusion ecommerce platform can do for you. Volusion offers many features e-retailers need and our in-house team are experts at designing the perfect store.
Browse our Volusion design portfolio and request a free quote. Be sure to find us on Facebook and check out our Pinterest boards for inspiration!