A New Jersey-based eBay power seller of computer electronics, accessories and tools, iPartsDepot has proudly provided products and customer service that exceeds their shoppers' expectations.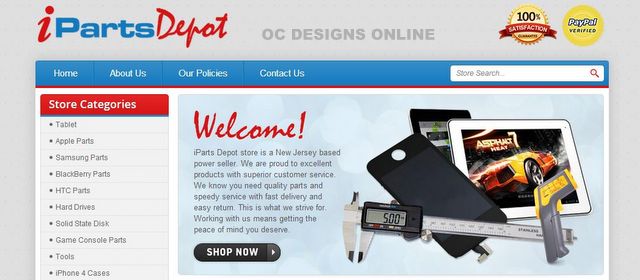 Since 2008, iPartsDepot was looking for an eBay store design that was equally exceptional. OC Designs Online came through with a striking creation that showcases all the seller has to offer.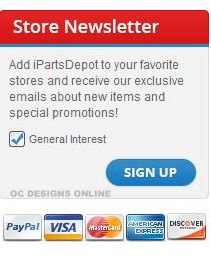 The distinctive red and blue store logo appears in the upper-right corner, and the rest of this eBay store design derives its color scheme from the emblem using the same red and blue shades against a white and pale gray background. Badges displaying the stores 100 percent satisfaction guarantee and PayPal verification offset the logo on the top left section of the site.
Many eBay store fronts sport the must-have navigation bar. The iParts Depot menu is unique in that the tabs are blue with white text upon first glance, but when shoppers point to a menu item, that tab takes on the page's red hue. Site visitors can quickly access the Home page, the About Us section, the store's policies and a contact form from anywhere within the site by clicking the appropriate tab.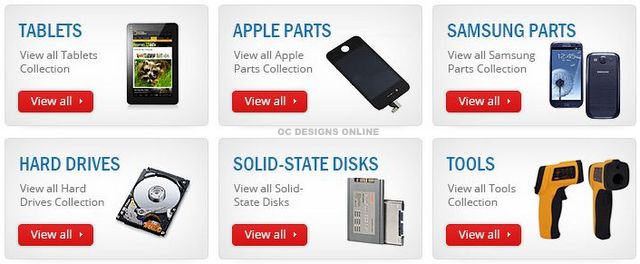 A blue-sky background highlights the Welcome section, which invites customers to check out the store inventory with a paragraph explaining what makes the store special, a graphic exhibiting a selection of items one might find in the store and a sleek, charcoal-colored Shop Now button.
Three boxes presenting information on the store's shipping offers feature complementary graphics and are linked to the site's Policies page.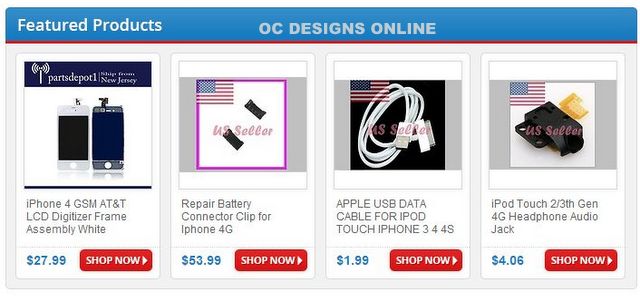 Each of the six categories is labeled with bold text in the eBay store design's blue tone with a View All button in the corresponding red. A brief description of the category and an image depicting the type of products shoppers can expect to find simplify the browsing process.
Four featured products occupy the bottom of the page. Each of these includes a high-quality photo portraying the item, a description, the price and a red Shop Now button that allows customers to make purchases almost instantly.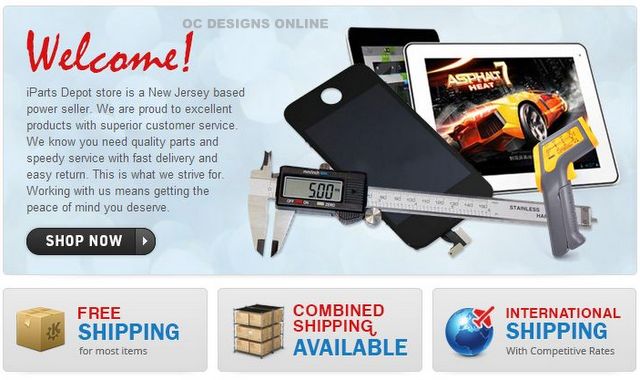 A comprehensive category list, store newsletter signup box and payment options image fill the left pane of the page, and a sitemap is available at the very bottom.
Your store deserves an eBay storefront that is eye catching and one of a kind, so consider OC Designs Online. We invite you to browse our expanding portfolio of stunning designs and request a quote to learn more.
Don't forget to look us up on Facebook, follow us on Twitter and check out our Pinterest boards too!