Not all eBay stores are based in the U.S., but they can still enjoy the benefits of an eBay store design created by OC Designs Online. One such retailer is Princess Trade.

This Australian eBay store offers a little bit of everything and needed a store design that would help them properly present their goods.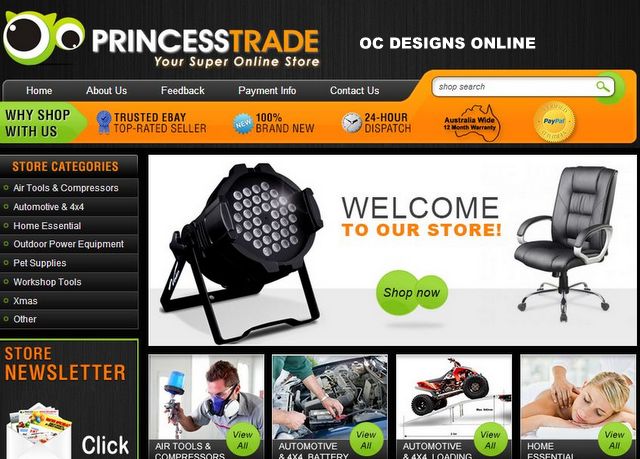 The color scheme of this eBay store design features a black background with a glowing orange border as well as bright orange and green accents. The green, orange and white Princess Trade logo at the top of the page is perfectly compatible with the design and includes the tagline, "Your Super Online Store," which is aligned with the store's massive inventory.

A vivid orange menu bar bedecks the upper section of the page and includes black, white and green trimmings. Along with navigation tabs that direct visitors to the Home, About Us, Feedback, Payment Info and Contact Us pages, this section also provides a Shop Search box as well as reasons to shop with them, including their Trusted eBay Top-Rated Seller status, 100 percent brand new merchandise guarantee, promise of 24-hour dispatch, Australia-wide 12-month warranty and PayPal verification.
The prominent Shop Now area includes a professional image of a spotlight and computer chair along with the words "Welcome to Our Store" and "Shop Now." Customers can click anywhere on this image to browse the store inventory.
An eclectic array of categories is displayed in this eBay store design using a combination of high-quality photos depicting the type of items shoppers will find with descriptions in a bold, white, uppercase font and green "View All" button.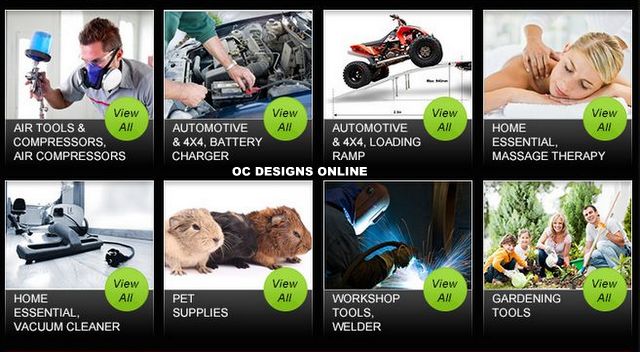 Denoted by an orange border, the Featured Products section boasts photos of the highlighted items as well as a concise description of each product and their listed prices. Clicking on the green "Buy Now" button takes shoppers directly to the listing page for the related item.
The eBay store design is rounded out by the content on the left side of the page, which includes store categories, a store newsletter signup button, a Dynamic Power Tools icon and a sale banner.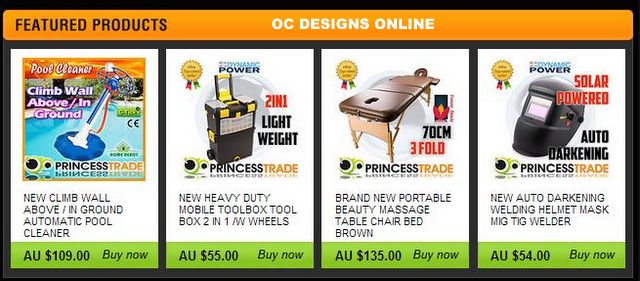 Whether you are "Down Under" like Princess Trade or have a U.S. based eBay store, OC Designs Online can create the perfect design for you, too! Please browse our impressive portfolio of inspired designs and request a quote to learn more.
Don't forget to look us up on Facebook, follow us on Twitter and check us out on Google+.