Whether you need something for your office, patio, home, pet or virtually any other area of your daily life, chances are good that Epic Sellers by Aosome (pronounced "awesome!") has something you will find appealing.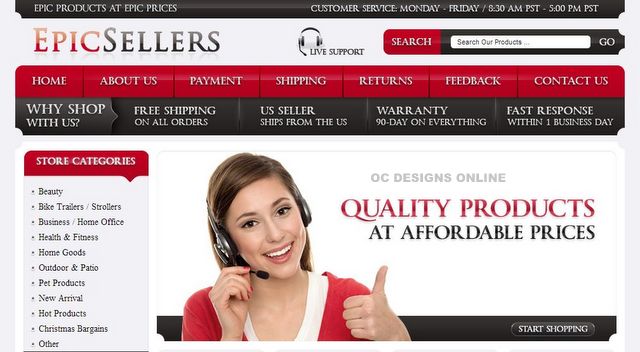 Founded in 2009, Aosome quickly grew into one of the premier import companies in Oregon. Their innovative approach unites top-notch customer service with a state of the art warehouse and competitive prices. Because of its eclectic offerings, Epic Sellers needed a unique eBay store design and OC Designs Online was prepared to deliver.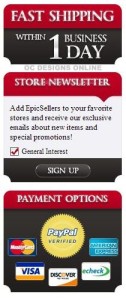 The streamlined page has a red, black and white color scheme that is visually appealing and easy to read. A black bar across the top of the page displays the store's tagline and customer service hours. The red and black Epic Sellers logo is next, along with a Live Support icon that is linked to a live online chat service. A helpful Search box is in the same section, enabling shoppers to search for specific items.
This eBay store design combines a navigation bar —providing links to the Home, About Us, Payment, Shipping, Returns, Feedback and Contact Us pages—and a Why Shop with Us? bar listing the many advantages of purchasing items from this store.
The Start Shopping section features a professional photo of a customer service representative, emphasizing the store's focus on support and quality. Clicking anywhere on this section takes shoppers to the primary store inventory.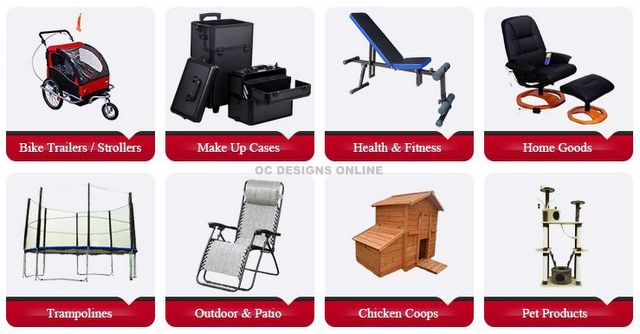 Because of its comprehensive assortment of products, the eBay store design includes a section with eight unique categories. Each category boasts a high-resolution image as well as a red banner-style label with white text and a black accent.
A complementary Featured Items section is next, exhibiting a dynamic selection of items, each with a brief description, price and link to the purchase page for the item.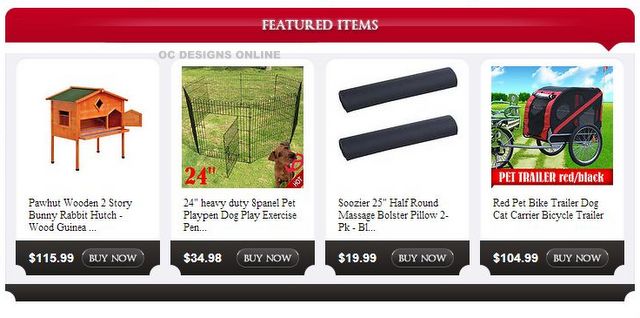 The eBay store design continues in the navigation page down the left side of the page. Here, shoppers find a broad list of categories, including new arrivals, hot products and even Christmas bargains. There is also information on the store's fast shipping policy (within one business day!) and payment options. In addition, this pane has buttons for shoppers to sign up for the store newsletter, read their feedback or add them to their list of favorite sellers.

If, like Aosome's Epic Sellers, your store breaks the mold and provides a diverse array of products, you don't have to settle for a cookie cutter eBay store design. Find out how OC Designs Online can create a custom theme for you.

We invite you to browse our portfolio to get a feel of what we have to offer. Then be sure to request a quote!
Find us on Facebook, follow us on Twitter and check out our Google+ Page!