The next time someone asks if you have the time, you can answer in style, provided you shopped at Alliance Watches first. The retailer sought help from OC Designs Online to create an eBay store design that matched the quality and taste level of the timepieces they sell.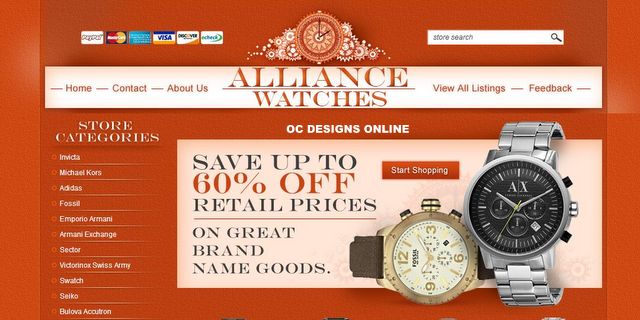 Alliance Watches offers a variety of premium brand name watches, from modern designers such as Michael Kors and Kenneth Cole to traditional luxury makers such as Bulova and Invicta, so an elegant yet contemporary eBay store design was essential. OC Designs Online created a sophisticated and stylish scheme for the site featuring a textured, pumpkin-colored background and other shades of orange with white accents taking center stage.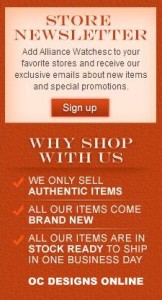 The Alliance Watches' logo is prominently featured in the center of the top of the page, complete with its meticulous, richly detailed clockworks and embellishments. The logo is surrounded by the site navigation menu, which offers immediate access to the Home, Contact, About Us, View All Listings and Feedback sections of the seller's eBay store.
Payment options are shown in logo format slightly above and to the left of the logo. On the upper right side is a site search box, providing a quick and simple method for shoppers to search for specific products.
A smart addition to this eBay store design is the Start Shopping box, which is linked in entirety to the current product listings. This segment features high quality images of two designer watches along with eye-catching text cluing shoppers into the deep discounts they will find inside of the store.

Next is a category section providing links to some of the store's most popular brands. Each category includes the brand name and an attractive image of a watch along with an attention-grabbing, carrot-colored "View All" banner at a diagonal in the upper right corner of the brand's box.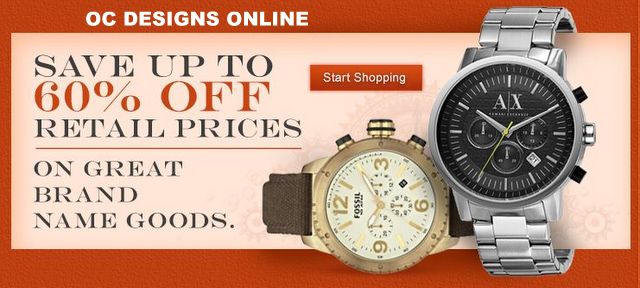 Several featured items are displayed beneath the category section. Each featured item presents an image of the respective watch against a striking white background and includes a brief description of the timepiece along with the selling price.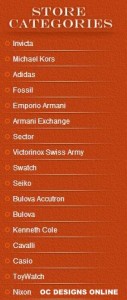 The navigation pane runs vertically down the left side of the page and provides a comprehensive category list along with a store newsletter signup button and a list of benefits shoppers gain by purchasing from Alliance Watches.
The eBay store design theme continues at the bottom of the page with a small-scale navigation bar and a store logo.
Find out how OC Designs Online can create the ideal design theme for your eBay store. Please browse our portfolio to get an idea of what we can do to enhance your eBay store design and then request a quote!
Don't forget to find us on Facebook, follow us on Twitter and check us out on Google+ as well!