Looking for an online store where "rubbing stamping and paper crafting come together?" This is the motto for The Rubber Buggy and to help them stand above the competitive world of home crafts and scrapbooking, they asked OC Designs Online to create a stunning BigCommerce store design!

BigCommerce stores offer tons of features and that's why our graphic designers like creating them so much! At the top of The Rubber Buggy's storefront we inserted their noticeable logo (and motto) and the top right are BigCommerce store elements where shoppers can review their account, shopping cart, order status, create a wish list or learn about gift certificates.
The top green navigation bar offers our designers the ability to include different elements. Here we included a home button, a shipping and returns tab, a blog tab and a nice feature, an RSS syndication feed. This feed allows subscribers to view recent news and popular and featured products in both an RSS feed or an Atom feed.

Also on these top green navigation bar, which compliments their logo, are social media buttons for Facebook and Twitter and a link to their blog. Blogging for online retailers is essential if they want to engage shoppers and build their brand identity. Ask us about our blogging/social media packages!

Next, our designers delved right in for the Store Category section where colorful product imagery is separated in individual product "clickable" boxes for easy shopping.
The left sidebar offers store categories—another way to easily navigate this BigCommerce store with subheadings to make shopping and browsing a snap.
Below are popular brand name crafting products. This is especially nice for crafters looking for a specific brand name or designer. Also to the left, shoppers can sign up for a free newsletter and read important "why-buys" These why-buys include how The Rubber Buggy offers free shipping in the U.S. and discounted shipping to Canada and International destinations.
The bottom of the BigCommerce store design is wrapped up with a green border to match the top navigation bar, a mini sitemap and the types of payments they accept. Also at the bottom is a link to some of their favorite scrapbooking websites.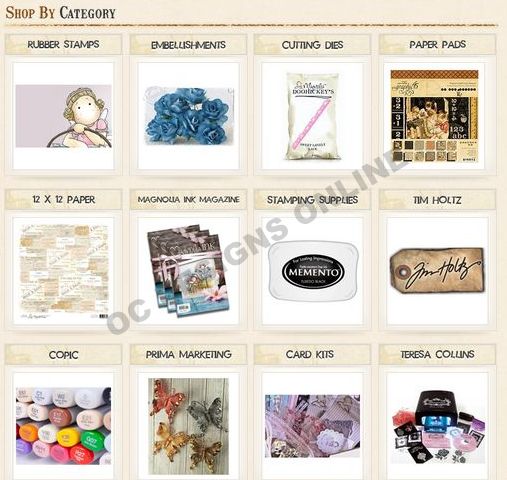 BigCommerce store designs are just one of our specialties here at OC Designs Online so if this ecommerce platform seems right for you, ask us about custom store designs and be sure to visit our portfolio and then request a free quote.