Off-roading isn't just a winter sport—it's a year-round sport and when Bikes, Trikes and Quads wanted to expand their ATV and dirt bike parts store and go "online," they asked OC Designs Online to "rev" up their eBay store design!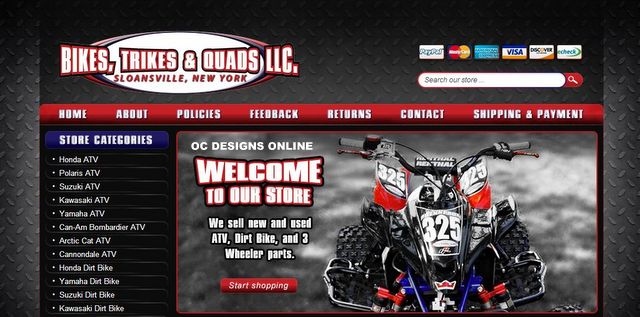 Located in Sloansville, New York, Bikes, Trikes and Quads offers both new and used parts for ATVs, Dirt Bikes, 3 Wheelers, UTVs and Snowmobiles. With over 30 years of experience in this powersports industry, this parts dealer also realizes off-roading changes constantly and consistently maintain a wide array of inventory to meet the needs of their customers.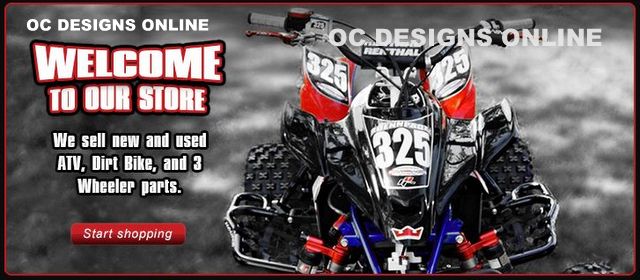 With customer satisfaction being their #1 Priority, it was essential we create a custom eBay store design that grabbed the attention of online shoppers.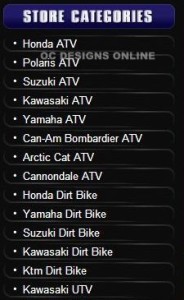 At the top of this eBay storefront is an important element for brand building – their enticing logo where shoppers quickly learn where they are located (Upstate New York) and what they sell. To the right is the must-have search the store tool for easy shopping along with the types of payments they accept—a must do for shopper convenience.
Beneath the top, shoppers find a red and easy-to-use navigation bar where one can learn more about this retailer, read their policies and find out about shipping and returns, check out their feedback and contact the seller.
Next comes the welcome section of this eBay store design with stunning off-road product imagery, informational text on what they sell and a prominent start shopping button. The background for this entire eBay storefront offers a metal and "powerful" feel—much like the sport!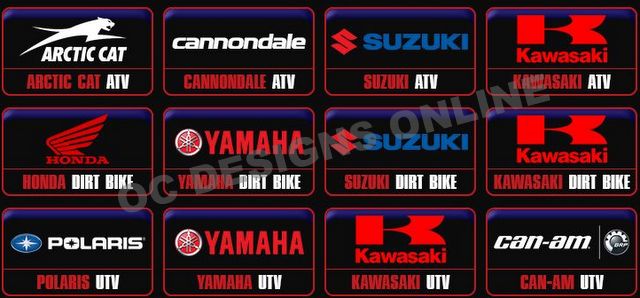 To the left, one can shop each category by manufacturer with easy to search sub-headings. The reds and blues of Bikes, Trikes and Quads' logo is also utilized throughout the store to entice and to help build a brand identity.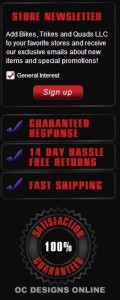 The mid-section of the store offers clickable boxes where shoppers can find the exact manufacturer they seek and go right to that section for needed parts. Each box reveals the manufacturer's logo for instant recognition.
Next is their featured items section with prominent buy it now buttons. This area makes it easy for all eBay retailers because the featured items can be quickly changed to help sell what's hot and trendy.
Also on the left sidebar are a place where shoppers can sign up for a free newsletter along with important "why-buys." These why buys include their offerings of 14-day guarantee returns, fast shipping and their 100 percent satisfaction guarantee badge.
The storefront for Bikes, Trikes and Quads is wrapped up with a repeating logo to help shoppers remember this retailer and a mini sitemap for easy shopping.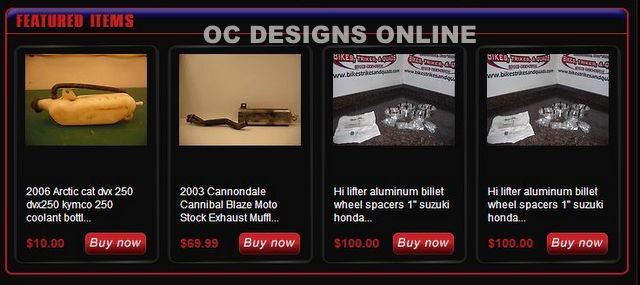 Because off-roading is becoming such a family sport, if you sell any type of parts or accessories dedicated to ATVing or off-roading, let OC Designs Online show you how we can change your storefront into something spectacular shoppers will remember.
Please browse our portfolio to get an idea of what we can do to enhance your eBay store design and then request a quote!
Don't forget to find us on Facebook, follow us on Twitter and check out our Google+ Page!