Visiting the Bazaar51 ecommerce store is like walking in to your favorite neighborhood hardware store, thanks to their well-planned eBay store design.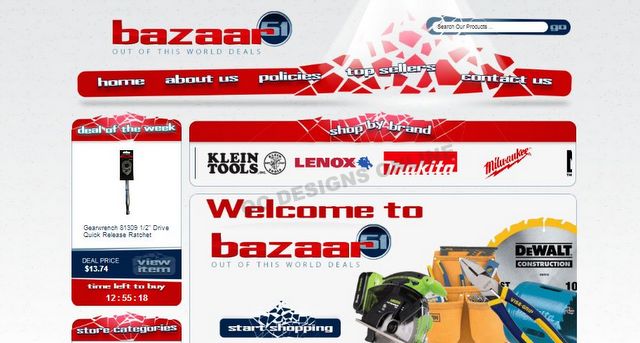 Known for providing name brand power tools and accessories, plumbing and electrical supplies and general merchandise at a discount, the store utilizes a clean yet striking design to welcome customers.

A red navigation bar near the top of the page makes it easy for visitors to access the About Us, Policies, Top Sellers and Contact Us page as well as the Home page from any other location on the site. A segment of the bar features a shattered appearance, which is a prominent theme of the eBay store design. The splintered red bars suggest shattered high prices, and the red is the primary color of the store's logo.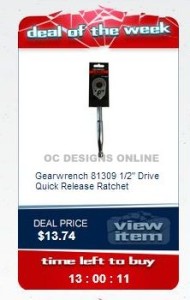 In the upper-left corner, the Bazaar51 logo brands the page. The logo appears again in the prominent Welcome section below the navigation bar along with a graphic showing some of the products this retailer sells.
Visitors will find a search box in the upper-right corner that enables them to search the store's products. The box is bordered in the same blue found in the Bazaar51 logo and throughout the site's theme.
The Shop by Category section is next, headed with the same shattered red border of the navigation bar. Categories are clearly marked with distinct blue labels, and each one includes a large, high-quality image descriptive of the grouping.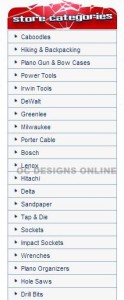 A section with unadorned but attractive red and blue boxes share the store's payment options, list of advantages to those shopping with the store and a sign-up button for their email newsletter.
This eBay store design makes good use of the real estate down the left side of the page, as well. The first section presents the featured deal of the week, complete with a full-color image, a brief description, the price of the product and a countdown timer displaying the time left to buy the item.
Next is a bulleted list of store categories, which is more comprehensive than the categories defined in the Shop by Category section.
The eBay store design repeats low-key versions of the logo and the navigation bar across the bottom of the page along with links to the seller's page on eBay and the RSS feed.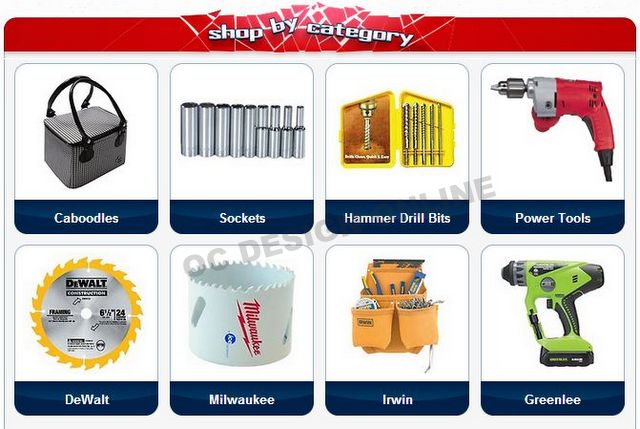 If your store boasts an extensive inventory such as this, a custom eBay store design can help ensure your customers can find everything they want.

Partner with OC Designs Online for a one-of-a-kind site that meets your needs as well as the needs of your shoppers. Take some time to browse our portfolio of dazzling store designs, and then request a quote.
Don't forget to find us on Facebook, follow us on Twitter and check out our Google+ Page!