Outdoor enthusiasts are always looking for quality brand names and products to enhance their outdoor experience. As with all ecommerce retailers, to make a name for yourself, you need to stand out and get noticed on eBay.

To do this, Outdoor Gear Trading Post asked OC Designs Online to revamp their eBay store design which is now stunning and offers a "durable" feel to it!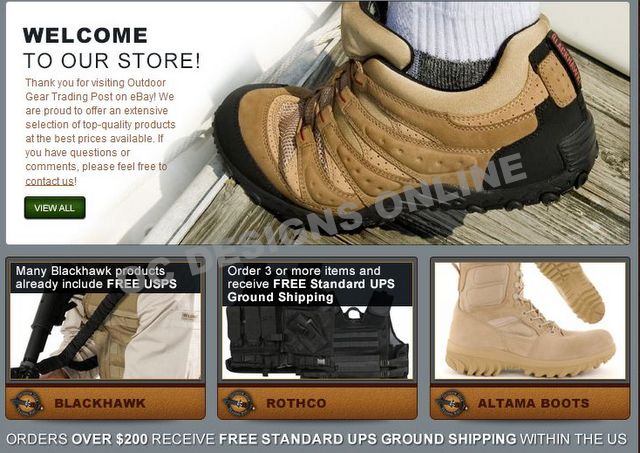 The Outdoor Gear Trading Post offers the names folks want like Blackhawk, Hogue, Pachmayr and Rothco. Having the right equipment, parts and outdoor accessories ensures your adventures are fun, fulfilling and exciting.
Because this ecommerce store's products cater to the outdoors, we wanted it to portray rugged imagery in the graphic design to obtain the right feel for the store—we did this right away in the background by using wooded forest imagery.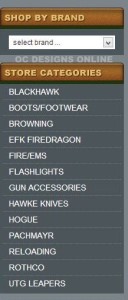 At the top of the store at the right, shoppers first see the types of payments they accept which is a great branding tool for folks when comparison shopping. At the top left is a must-have eBay store design element—a search the store tool.
Next comes the storefront's navigation bar with Outdoor Gear Trading Post's logo in the center—the brown in the logo is used in both the payments they accept and search the store tool for eye-appealing enhancement.
The green navigation bar is a bold contrasting color where shoppers can learn more about the seller, read their policies, find out about shipping, read their FAQ section, learn about their return policy or contact the seller. The trim of the green navigation bar matches the wooded background design. Beneath the navigation bar, shoppers instantly see they offer factory warranties and combined shipping—both important why buys in any eBay store design.
The welcome section boasts brand building text, rugged boot imagery and an easy-to-see green view all listings button. Also included in the welcome to our store area, shoppers can easily browse favorites in Blackhawk, Rothco and Altama while they learn about free shipping on certain items and that all orders over $200 receive standard UPS ground shipping.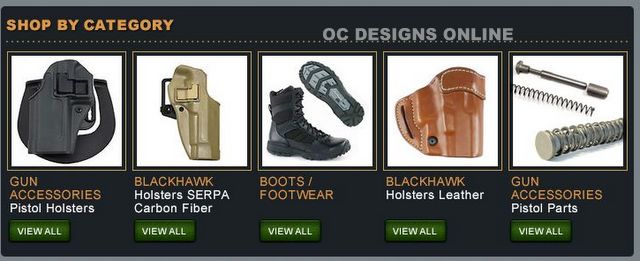 The left sidebar offers shoppers a drop down shop by brand tool and a store category listing with easy to see sub-headings for shopping convenience. Also to the left, shoppers can sign up for Outdoor Gear Trading Post's newsletter—another must-have in all eBay store designs.
In the mid-section of the storefront, shoppers can browse by category or featured items, all using the browns and blues seen throughout this eBay store design along with product images and clickable boxes.
The bottom of the store reveals a repeating logo to help build their brand and a mini sitemap making this storefront's navigation easy.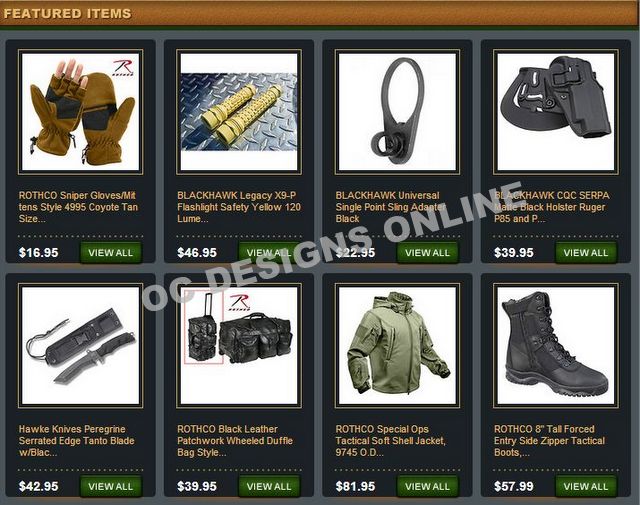 Camping, hiking, outdoor wear and those must-have hunting accessories and gear are all big sellers on eBay. Now this eBay store design is building its unique brand identity and getting noticed with eye-grabbing graphics, colors and imagery.
Need a custom eBay store design? If so, we invite you to browse our portfolio and then contact us for a quote and don't forget, for even better brand building, we also offer custom Facebook and Twitter page designs.