When you sell technology on eBay like tablets and accessories, you need a way to stand out above the rest and that's why United Kingdom's Tabtronics asked OC Designs Online to create a stunning new eBay store design for their storefront.

We started this eBay store design by inserting consistent elements from Tabtronics' website such as their logo to help build consumer trust and their brand. Next we created boxes in their corporate green color where shoppers can learn more about Tabtronics, read the store's policies and feedback or contact the seller.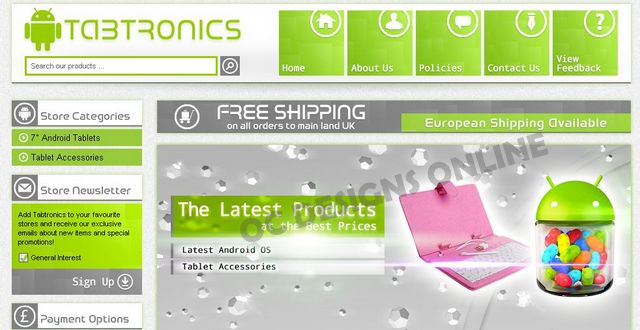 A must-have essential for all eBay store designs—even those we design for the United Kingdom and Australia, is the search the store tool which is placed prominently at the top beneath the company's logo.
In the welcome section we inserted a four-part slideshow of products from Tabtronics inventory so right away shoppers learn what they sell—tablets for all ages and accessories. Above the welcome slideshow shoppers find out Tabtronics offers free shipping in the UK and also European shipping.

On the left-hand sidebar, shoppers can browse by category, sign up for a free newsletter to stay informed on what's new for this eBay retailer, find the types of payments they accept and that Tabtronics offers a one-year UK warranty.
The mid-section of this eBay store design features clickable product boxes for 7-inch, 8-inch and 10-inch tablets and a box designated for tablet accessories—all using colorful product imagery. And, throughout this eBay storefront, with their corporate green colors placed tastefully, the store not only feels welcoming, it helps to build the Tabtronics brand. At the bottom are a repeating logo and an easy-to-navigate mini sitemap.
As we said earlier, selling any kind of technology on eBay is very competitive, but with a custom eBay store design, any retailer on eBay gains an edge above the rest—no matter what they sell.
And, there's so much more we offer at OC Designs Online like custom listing template design, ecommerce combo packages like eBay and Volusion matching stores and even custom Facebook and Twitter page design.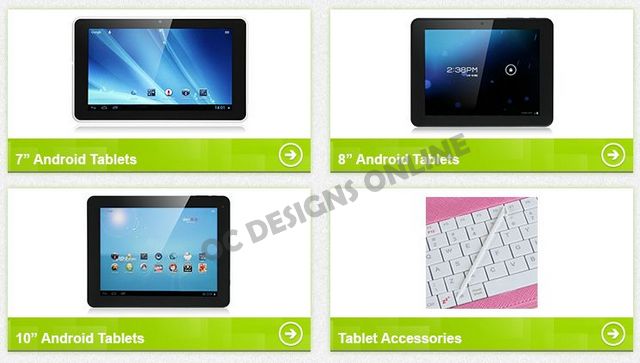 No matter where you sell your products, whether it is eBay or some other ecommerce platform, chances are we've designed a custom store for one of our clients.
Break away from the common and instead, choose our one-of-a-kind custom eBay store designs to make your business pop, increase traffic and drive sales.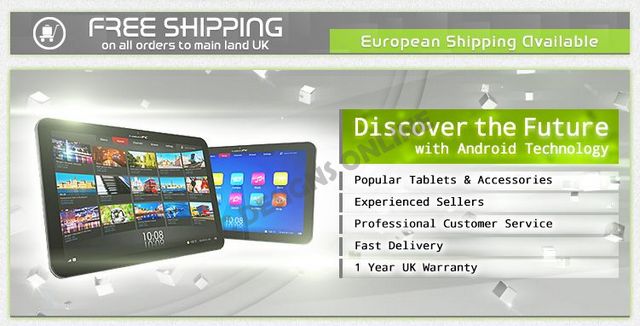 This time of the year is the best time to look at just how you'll reach more customers in 2013 so contact us for a quote and don't forget to follow us on Facebook!