Selling action figures for Star Wars, X-Men and the Transformers is a competitive marketplace and that's why Alex's Action Figures & More asked OC Designs Online to help them really get noticed with a new eBay store design.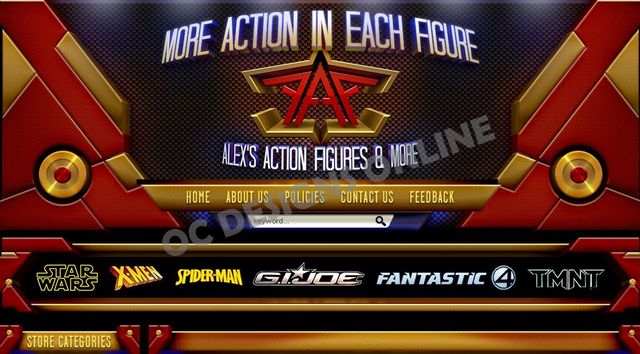 Located in Johns Creek Georgia, this action figure ecommerce retailer is now building a brand on eBay and we think the new storefront design is not only stunning, it's easy to navigate and eye-appealing.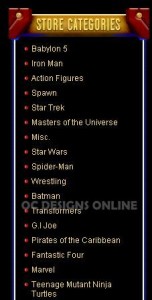 First we started off with a "robotic" type of background design for this eBay store design where their logo shines along with a store motto of "More Action in Each Figure." Dimensionally-wrapped letter graphics pop in this storefront which also offers an "action" feel representing the "mechanics" all collectors love about action figures.
Between the gold and red metallic design sits the store's navigation bar dressed in gold where shoppers can learn more about Alex's Action Figures & More, read their policies, contact the seller and check out their eBay feedback stats. Also included here is the must-have search the store toolbar; an eBay essential for easy keyword item browsing.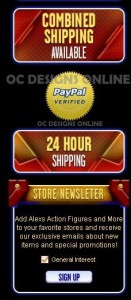 Next comes some helpful branding elements with imagery of the action figure brands they sell using original manufacturer logos.
The welcome to our store box uses red and yellows and action figure imagery to help the store stand out—and of course a big and noticeable "shop now" button.
The left colorful sidebar offers the store's categories with sub-menus so shoppers can go directly to their action figure of choice from Babylon 5 to Ironman to Batman and Spiderman and more! Shoppers can even shop by brands such as Disney, DC and even peruse their comic books.
Next is an arrow-driven new arrivals section where collectors can see what's new easily with stunning pop-up action figure imagery. Featured items are next—all with colorful clickable boxes in stunning gold.

Also on the left sidebar are important why buys such as instantly letting shoppers know this eBay retailer is PayPal verified and offers both 24 hour shipping and combined shipping. Shoppers can also sign up for a free newsletter to stay on top of all things new at Alex's Action Figures & More. At the bottom of the store is another brand building toolbar with a mini-site map and more action figure imagery!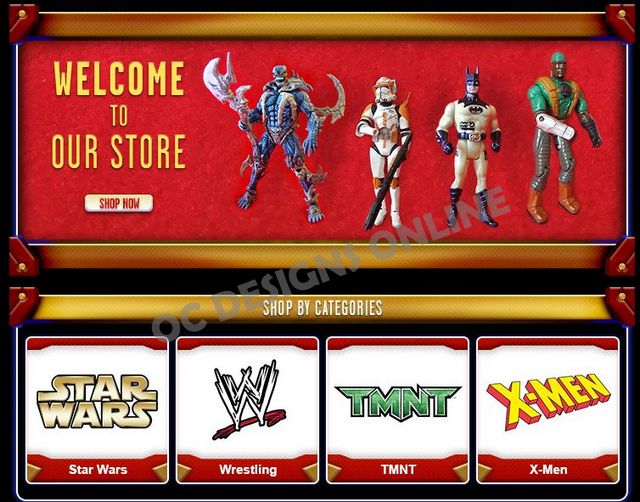 Much like the action figures they sell, this eBay store design comes to life and not only pops it also offers a visual presence using gold, reds and yellows and metallic mechanic-like robotic imagery which reinforces the brand and what they sell.

Selling collectible items on eBay is competitive but if you sell any sort of collectible items from action figures to sports memorabilia you too can make your eBay store design trustworthy to buyers by using customization that is unique to your brand! Just ask OC Designs Online by requesting a quote and to get an idea of what we can do as far as custom eBay store designs, check out portfolio.
Don't forget to find us on Facebook and follow us on Google+!