Salon and beauty suppliers can also benefit from selling their wares on eBay and that's exactly what the Salon Guys have done with a new eBay store design. Competing in the beauty salon supply industry can be fierce so it's important to ensure the design of your eBay storefront stands out.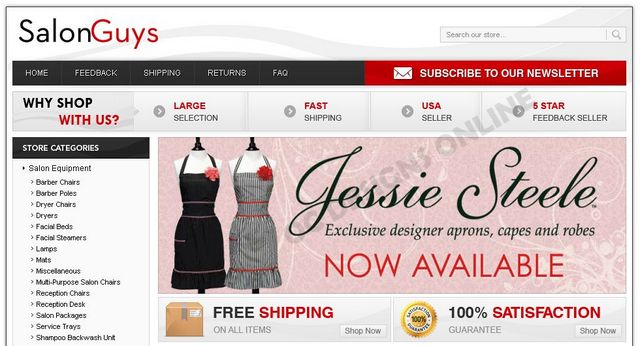 Located in Sacramento California, Salon Guys offers a wide inventory of supplies for beauty, barber, spa and nail salons so it was essential OC Designs Online made their eBay storefront easy to search, browse and offer the ability for shoppers to quickly find the information and products they need.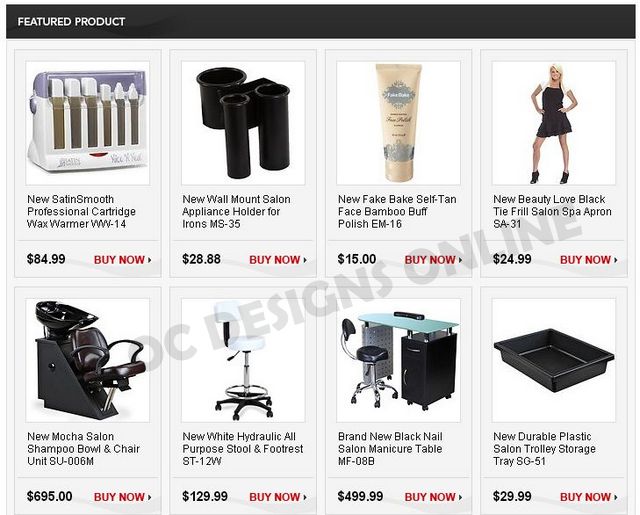 Along with a prominent top logo, we also inserted a navigation bar which includes great eBay store design elements—an FAQ section and a search the store tool. In addition, interested shoppers can easily sign up for the Salon Guys' newsletter to stay on top of new products. Next came the essential why buy from us displaying how the Salon Guys offer a large selection, fast shipping and that they are a USA seller with a 5-star feedback rating.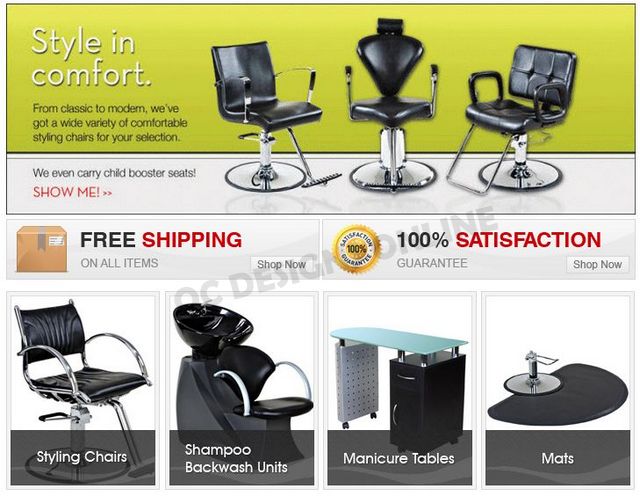 Beneath that is a great eBay store design element, a four-part slideshow displaying imagery of salon chairs, shampoo chairs, nail stations and exclusive Jessie Steele™ aprons. Sideshows engage shoppers and using them offers a much better chance for shoppers to stay in your eBay store and explore. Below the slideshow, shoppers learn they offer free shipping as well as a 100 percent satisfaction guarantee. Next are clickable boxes of popular items including mats, manicure tables, styling chairs and shampoo backwash units.
The left sidebar menu allows shoppers to quickly find everything in their inventory by category using headings and sub-categories such as Salon Equipment, Salon Tools, Salon Supplies, Massage Equipment and more. The featured product section also offers clickable boxes for best sellers and at the bottom of this eBay store design, we included a mini sitemap and repeated the Salon Guys logo for brand building.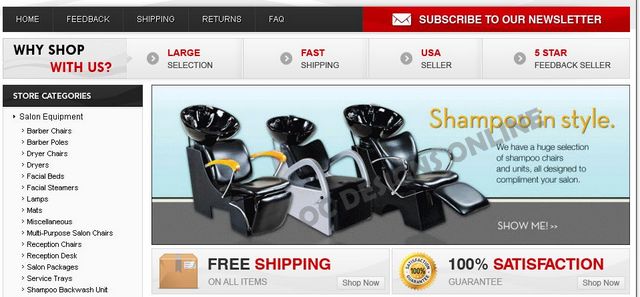 Successful selling on eBay means ecommerce sellers must take advantage of professional eBay store designs and at OC Designs Online, we do just that. We also offer custom eBay template listings and eBay combo store solutions to help your eBay store go even further.
Learn how OC Designs can change the appearance of a dull eBay store and turn it into a stunning ecommerce store. Simply Request a Quote and feel free to browse our extensive eBay store design portfolio to see how you too can boost sales, drive traffic and compete with top sellers on eBay!