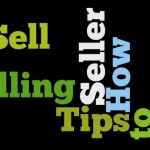 According to the Small Business Administration (SBA), ecommerce sales were around $190 billion in 2011—so you can rest assured selling on eBay or any other ecommerce platform is here to stay—it's not going away and in fact, expect the volume to increase by the end of 2012 and eve more in years to come.
When ecommerce became the rage, people rushed to eBay for better prices and the ability to shop in their pajamas 24/7. Most eBay shoppers will tell you they started as "eBayers" just to see what was out there and at what price, or to find what that old vase they had sitting in their attic from Aunt Bertha was worth. Truth be told, anyone can sell anything on eBay and the shoppers and their interests are vast. With so many eBay sellers and stores, we thought we'd offer some tips on how to be a better eBay seller—especially for you experienced folks with eBay stores.
Search Engine Optimization (SEO)
We've all seen those horrible item listings! They don't accurately describe the product, nor do they entice a shopper to read more; most buyers will just click away. eBay gives you ample character space to write a great item title so before you list, think about SEO.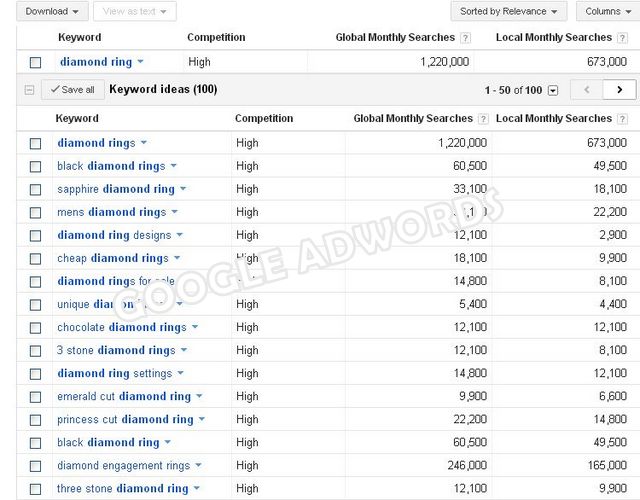 Google Adwords offers a free keyword tool and you don't need a Gmail account to use it. We did a search for "diamond ring" and found there are approximately 1.2 million searches for those two words each month! So, you can't just use the words "diamond ring" in your item title—even if you have a store and are selling many diamond rings.
Adjectives and nouns play a big role in SEO keywords and are more commonly known as long-tail keywords. You know your products better than anyone so use nouns and adjectives. "Heirloom Princess Cut 1-Carat Diamond Engagement Ring—Still Sparkling," for example will do much better than just "1-carat diamond ring." In the above item title, we described the item in full using the needed SEO attributes, nouns and adjectives. Your item title has to be engaging enough to be searchable and once found, clear enough for shoppers to want to learn more about the item and possibly buy it.
Invest in Custom Listing Templates
eBay store owners will fare better with custom listing templates such as the one seen below. With an eBay listing template, you don't lose the elements of your storefront and gain a more attractive listing with more room for promotional features like videos and top and side store navigation tools.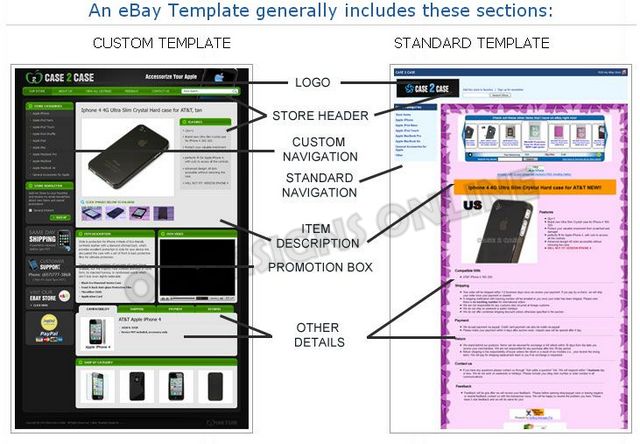 At OC Designs Online, not only do can we create custom eBay store designs, we also offer eBay listing templates to ensure buyers have the feeling of never leaving your ecommerce store. Save more by purchasing our eBay store design and listing template combo pack. Contact us to learn more.
Bland listing templates are becoming unfashionable for eBay retailers. Custom eBay listing templates show professionalism, help to build your store's brand and portray seller experience and trust to potential buyers.
If You Sell a Variety of Items…
If you really want to learn how to be a better eBay seller and your eBay store sells electronics and accessories of all sorts or home goods from pillows to blankets to small appliances, you need to ensure you are listing items in the correct categories. With a custom eBay store design this becomes very easy to do.
A customized eBay storefront will have clickable shop by category boxes and even featured or best seller boxes along with sidebar menus and a search tool at the top—lots of way for shoppers to find your stuff and in a much more attractive, eye-appealing design. Check out the difference between a standard eBay store design and a custom store design in the image below.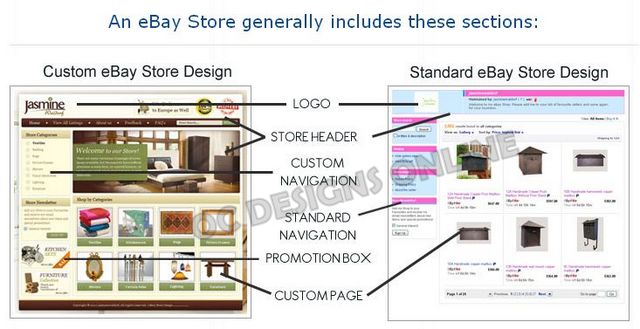 Spelling Counts!
We all remember hearing those two words from teachers and professors our entire lives when writing an essay or paper—spelling counts—it counts on eBay too! If you sell "replacement" parts for appliances, wouldn't it be embarrassing if instead you wrote "repalacement parts?" Or if something is brand new, it's not brand "knew."
Although you know your items inside and out, you still need to utilize great grammar and correct spelling to engage the buyer. Write item descriptions and proofread them and use the spellcheck feature. Don't copy another sellers description either—this is an absolute no-no. Not only does it make you look bad, the seller who originally wrote the content will find you and ask you to write your own!
If you're really lost on how to write your listings, OC Designs Online can also help with grabbing, informative and exciting text that will reel buyers in. Just ask us!
Turn to the Experts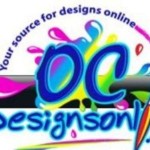 Here at OC Designs Online we want to show you how to be a better eBay seller with customized store designs and listing templates that enhance your storefront, not distract from it. We also want you to do your homework when it comes to SEO and as far as writing good item descriptions, you can master those if you try and if not, we can help with that too.
Ready to take your eBay store to the next level? We're here to help and at more affordable prices than some of the big designers because we're family owned and operated and we have no middleman!