The Kuzy eBay store specializes in MacBook accessories offering low prices and an unbeatable selection of MacBook cases, covers, sleeves, keyboard covers, screen protectors, palm guards, cables and more. Even with their commitment to excellent customer service, a fresh eBay store design is helping this eBay retailer surge ahead!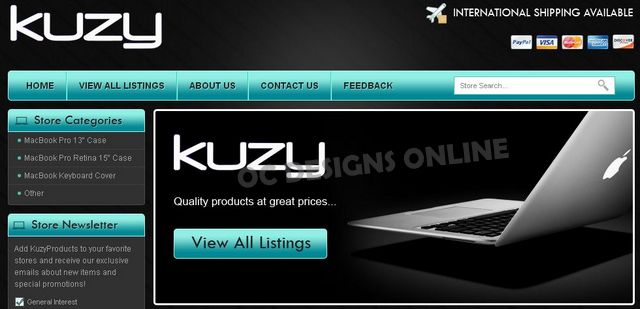 For those loyal to Apple, it was important for this eBay store design to stand out with exceptional imagery and colors that enhance and engage—not the normal tab colors but eye-appealing, exciting and welcoming colors. With the Kuzy eBay store design, we think we've hit the mark with a design that offers all these elements and more.
At the top of this eBay storefront we inserted the Kuzy logo in bold white against a black background. To the right, because MacBook users are worldwide, a must-have was how Kuzy offers international shipping along with the types of payments they accept.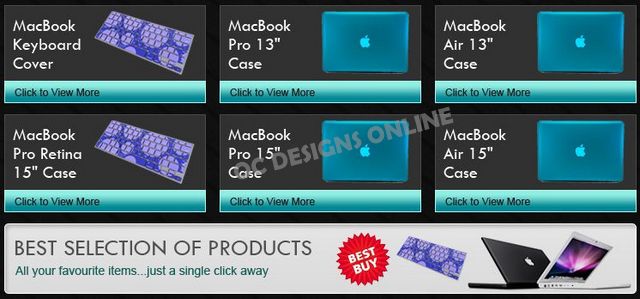 Next, comes the stunning turquoise navigation bar where shoppers have the ability to learn more about Kuzy products, view all listings, contact this seller and read their feedback. The left sidebar also bursts with turquoise headers for store categories and newsletter signup with subtle grey sub-menus on popular products.

In the middle section, shoppers are welcomed to the Kuzy eBay store where we learn their motto: "Quality products at great prices," and MacBook shaded imagery in front of a black background with a large and noticeable turquoise view all listings button. We think the greys, black and turquoises in this eBay store design not only complement one another but also, engage the shopper.
A scroll down reveals the same color theme with clickable boxes of Kuzy popular products where shoppers can also view and learn more about all products in each category—what they call their best selection of products—"best buys" if you will.
To the left, the top navigation bar is repeated in the store pages menu along with important why buys like free domestic shipping, how Kuzy is PayPal verified and that they offer a 100 percent satisfaction guarantee.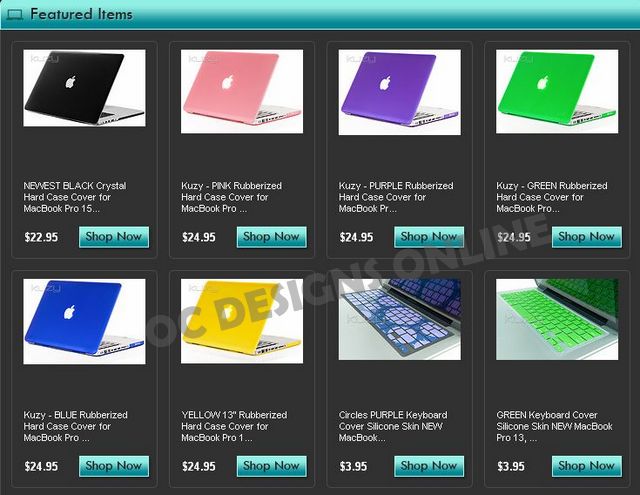 Featured items are next all in colorfully designed linked boxes and for the bottom of this eBay store design we kept the turquoise color theme going and inserted another Kuzy logo, payments they accept and a mini sitemap.
Very often colors and design are what makes shoppers want to shop in your eBay store! Custom eBay store designs that include consistent themes and colors offer a welcoming feel and help to build any ecommerce brand.
Learn how OC Designs Online can turn your eBay store into a stunning "must-shop-in" retail store where shoppers can easily find what they want while experiencing a sharp and crisp design.

Request a Quote and be sure to browse our massive eBay store design portfolio and learn more about eBay and other ecommerce store solutions by investing in our combo packages.